मैने 65 की उम्र में न केवल Diabetes Reverse किया पर मॅरॅथॉनर भी बनी - वसुधा चव्हाण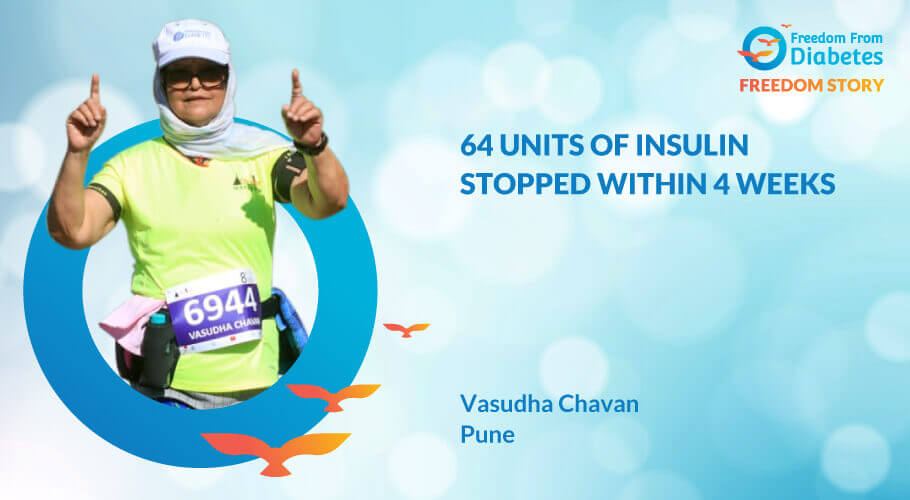 Transformational story of a Diabetic Grandma to a Marathoner
Name- Mrs. Vasudha Chavan
Age- 64 years
Place - Pune
From severe diabetes on 64 units of insulin and poor condition of life to a strong and healthy life and running a 10K Marathon almost twice every month.

Hello, I am Vasudha Chavan from Pune, age 64 years.
Let me introduce myself and tell you about my "transformation from a severely unwell diabetic (suffering for over 15 years) with other complicating medical issues to a medicine-free 10K regular runner with excellent health"

My diabetes was a rapidly progressive one ever since the diagnosis.
I was always told that it was going to be progressive and that medicines were the only way to keep it under control.
No one ever told me that Diabetes was actually completely reversible just with changing diet and lifestyle habits! Like many other people, I wasted numerous years on expensive medications with side effects, rising fatigue, rising sugars, more stress, and declining physical fitness - a totally vicious circle.

I was also constantly anemic with my HbA1c mostly around 6-7 suffering from trigeminal neuralgia, severe post shingles neuralgia for nearly 3 years, gout in my ankles, battling sedation from anti-epileptics prescribed for my neuralgia, headaches, and rapidly decaying teeth, and loosening gums needing multiple teeth extractions.

I was a prisoner to my tablets and the dreaded insulin 4 times per day (64 units daily for me) which only worsened cravings and hunger causing weight gain and further metabolic burden all over! I felt there was no way out of this unless I injected all of the insulin in the bottle and ended my life!
I was also diagnosed with early cataracts and my ophthalmologist told me to control my sugars otherwise they would progress quickly and I would need cataract surgery soon!

At this point, my son informed me about FFD Diabetes Reversal Program, one of his friend's parents had attended that program and got benefitted and urged me to attend as soon as possible.
I was skeptical but decided to try one more thing where everything else had failed. This was my ray of sunshine at last.
I attended the Basic and Foundation Programme in December 2014 and started my diabetes-friendly smoothie and FFD diet routine.
I felt such a positive change in my blood sugars, reduced pain levels, reduced headaches, better sleep, better bowel health, clearer vision, and more energy levels! I also realized I needed a lot more input to regain my health on a permanent basis and hence enrolled in the 25th Holistic Transformation Program Batch.

This was indeed the miracle I was waiting for all of my diabetic life - within 4 weeks I was insulin-free and within the next 4 weeks, I was medicine-free too! It was incredible, especially to my physicians! Eventually, within the next 6 months period, I got freedom from all my medications, including BP, Trigeminal Neuralgia... I lost 16 Kgs...which was another wonderful experience.

My Cataract did not progress further and I didn't have to operate on my eye... For the last 3 years, I am enjoying life without medicines.

With diabetes specialist Dr. Pramod Sir's motivation, I attended 10 days Vipassana course to get deeper insights about life, its challenges, and how to keep your calm while facing them with a balanced state of mind.

Though you may feel unbelievable, yes, this is the truth of my transformed life

Diabetes specialist "Dr. Pramod Sir" always motivates us all in the FFD family, to stay fit, active, healthy, and happy...He said to me ... "Don't stop here. This is the beginning of your new life... So make it healthy and happy... Go for Exercises, Gym, Running... I wish you could run 10K Marathon..."

Dr. Malhar Sir, our fitness expert guided me on this front. He chalked out a detailed program for running 10K and gave valuable tips to start Gym, Strength Training as well.
I joined Gym for weight training. Once upon a time, it was me struggling hard to walk a few steps to catch an auto, and now I am regularly running 10 Kin more than 20 Marathon Events.

"I owe my new life to Diabetes specialist Dr. Pramod Sir and his FFD team" and I feel very proud to be associated with such a great organization, working for the wellness of people who are suffering from Diabetes and so many other ailments. FFD works on strong pillars of Diet, Exercise, and Spirituality, which bring a great transformation in your life...

Your mind also gets detoxed along with your body...

And it is a unique experience for a lifetime...

Gratitude... Gratitude... Gratitude...
If I can, you can also reverse your diabetes, so what you are waiting for,Enroll in the upcoming Discover Reversal Session and learn how you can also reverse your diabetes.