Bay Leaves - The Diabetes Friendly Spice!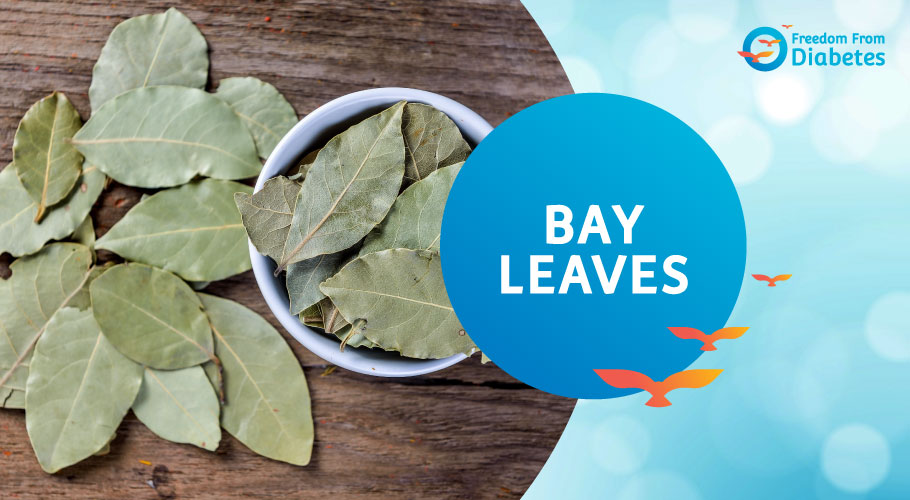 Bay leaves are aromatic leaves commonly used in Indian cooking. Its botanical name is Laurus nobilis and it is commonly called Tej Patta. Bay leaves are fragrant leaves from the laurel tree which are available whole either fresh or dried or ground into a powder. The main benefit of bay leaves is that they can enhance the taste of your meals without adding sodium. Calorie wise, a one-tablespoon serving of bay leaves provides about five calories, primarily in the form of carbohydrates.
Bay leaves contain micronutrients like vitamin A, vitamin C, vitamin B6, manganese, iron, and calcium.
This spice has many volatile active components such as a-pinene, ß-pinene, myrcene, limonene, linalool, methyl chavicol, neral, a-terpineol, geranyl acetate, eugenol, and chavicol. These compounds are known to have been *antiseptic, antioxidant, digestive, and thought to have anti-cancer properties*.
Fresh leaves are a very rich source of vitamin-C; provide 46.5 mg or 77.5% of RDA per 100 g. Vitamin-C (ascorbic acid) is one of the powerful natural antioxidant that help remove harmful free radicals from the body. Ascorbic acid also has an immune booster, wound healing, and antiviral effects.
Medicinally, the benefits of the bay leaves and its berries are plentiful.
Bay leaves can be very helpful in treating diabetes in the following ways -
1) They help in improving digestion by treating digestive disorders and also help in:
Lumps
Heartburn
Acidity
Constipation
Regulate bowel movements
Help in insulin production
Eliminate bad cholesterol and relieve the body from triglycerides.
Lower blood sugar
Act as an antioxidant
Responsible for improving insulin function
2) Heart-Friendly - Organic compounds including caffeic acid and rutin that are found in bay leaves enhance heart health. They both strengthen capillary walls in the heart and further eliminate LDL or bad cholesterol from the cardiovascular system. Protects the heart from seizures and strokes, as they contain cardiovascular protective compounds.
3) Act as a stress-buster - Adding more bay leaves into diet will act as stress-buster. The presence of linalool can lower the level of stress hormones in the body. These leaves help in calm down and combat symptoms of depression.
How to use consume Bay Leaves?
* Diabetics will definitely benefit by eating or drinking bay leave tea for a month.
* Bay leaves can be effectively used in soups, vegetable dishes and sauces.
Thus, bay leaves can be effectively used by diabetics as they are highly beneficial in addressing various factors that can directly or indirectly lead to diabetes.