FFD'S IRP Saved Me from Insulin and Other Health Problems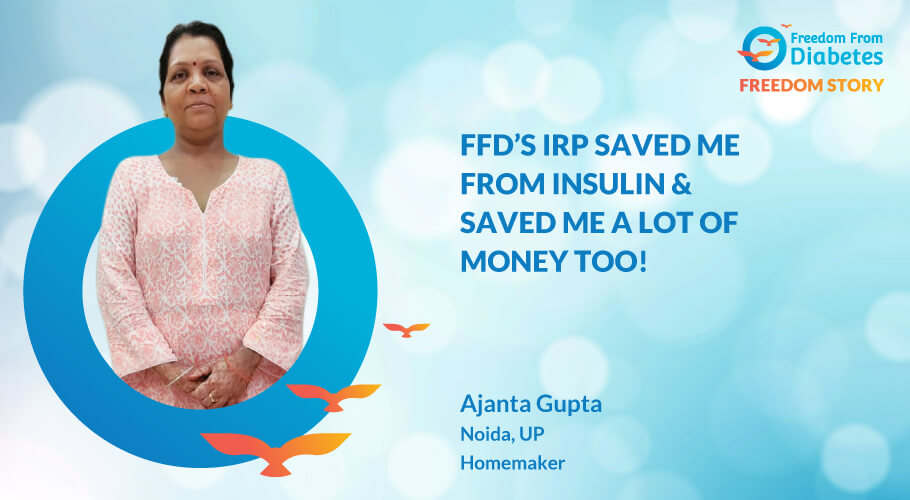 Diabetes Reversal Success Story of Mrs. Ajanta Gupta
Name-Mrs.Ajanta Gupta
Age - 51
Profession - Homemaker
Place-Noida, UP
Diabetes doesn't just harm the body, it also has a devastating effect on the wallet. Especially if one is on high insulin dosages, as Ajanta was.
A postgraduate in Spirituality from Annamalai University, and a housewife in Noida, Ajanta was on multiple medicines plus 45 units of insulin a day for her diabetes. Yet her blood sugar levels continued to misbehave.
That was earlier. Now she's completely free of insulin and her BSL is lower than it ever was.
How did she control Diabetes? Let's find out.
I'm no stranger to health problems, having had to undergo multiple surgeries, including two C-sections, nose surgery, and cataract surgery, in my lifetime. I also suffered from acidity, sleeplessness, tiredness, high cholesterol, fear hypertension, hair loss, skin issues, knee pain, fatty liver grade 1.
Then in 2006, I started noticing eye problems and headaches, which I had never faced earlier. Tests revealed my blood sugars to be very high and I was put on diabetes medication. Unfortunately, medicine alone could not control my Blood Sugar Levels (BSL), and my diabetes specialist doctor prescribed insulin for diabetes treatment.
On the Cost of Turning Diabetic
My insulin dosage steadily increased to 45 units per day. I was also on several medicines for diabetes managment, and it was not cheap. Glapeda, for instance, costs around Rs 50/- per tablet. At even just one a day, the damages come to Rs 1500/-per month. Add to this the cost of testing strips, path-lab charges, and of course insulin, and the expenses really start to mount up.
On Discovering "Freedom from Diabetes"
One day, my son came to know about "Freedom from Diabetes" through one of his friends. He told me about it and we researched the organization. We were astonished at the phenomenal results their Diabetes reversal program participants were experiencing. I immediately enrolled in their flagship year-long program: the Intensive Reversal Program (IRP).
Joining FFD was the best decision I could have ever taken.
The four protocols that drive the program-
Diet
Exercise
Inner Transformation
Medical
Are the most complete and natural solution to diabetes treatment. And the entire credit for innovating this program goes to diabetes specialist Dr. Pramod Tripathi and his holistic approach to health. The Intensive Reversal Program (IRP) really worked wonders for me. My 45 units of insulin stopped in 45 days of joining FFD. Gradually, all my diabetes medicines also started reducing one by one. Which made my wallet very happy too.
Weight loss is another unexpected side-effect of the program. I lost 12 kg and without any special effort. With the improvement in the BSL, my health improved in every aspect. My energy levels have shot up.
I feel so much stronger, healthier, and happier too.
Thanks To,
All thanks to FFD and Dr. Pramod Tripathi.