How I Dropped 21kg and All my Medicines For Diabetes ,BP & Cholesterol!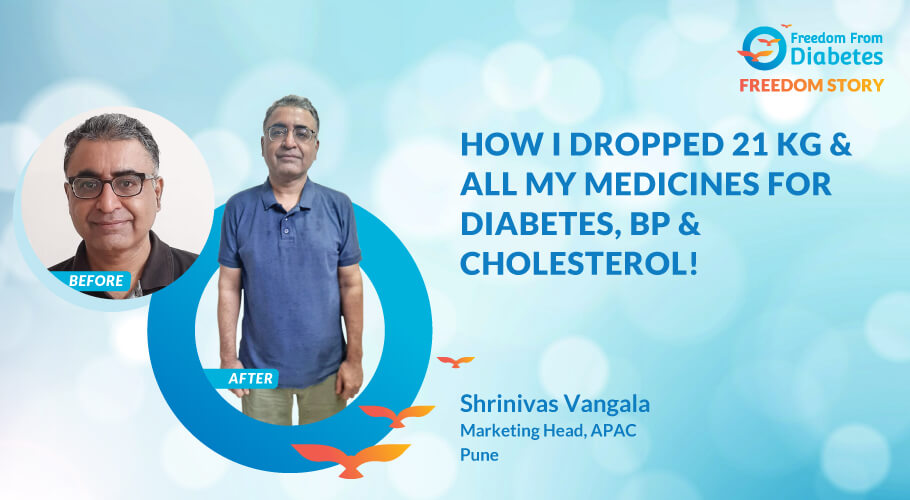 Type 2 diabetes reversal inspirational stories Of Mr. Shrinivas Vangala
Name- Mr. Shrinivas Vangala
Profession- Asia-pacific Marketing Head
Place - Pune
Several factors can cause diabetes—
stress,
excess fat,
insufficient exercise,
a sedentary lifestyle
bad eating habits.
I suffered from all of them.
As Asia-pacific Marketing Head for the largest chemical company in the world, my job is quite stressful and involves a lot of traveling, and by extension, a lot of outside, unhealthy food with little to no exercise. Looking back, I realize the result was inevitable.
In 2006, while suffering from a fungal infection, my dermatologist father recommended an oral Glucose Tolerance Test. I failed and was diagnosed with Type 2 diabetes. I was also overweight with a BMI of 31.2. My BP was way above normal and so were my triglycerides and LDL—the bad cholesterol.
I was put on medicines for diabetes, BP, and cholesterol. Acidity, constipation, gas, sleep issues also became my companions. This was my life for the next 15 years till July 2020. And this would have been my life story, had it not been for FFD!
I stumbled upon FFD through Facebook and signed up for Dr. Pramod Tripathi's Online First Session. I was very impressed, to say the least. One statement, in particular, had me completely hooked: that conventional treatment protocol for diabetes treats the symptom (sugar) rather than the cause ( fat & insulin resistance). FFD protocols actually treat the cause.
I quickly enrolled in FFD's Intensive reversal program, and never looked back. Within 10 days of starting the course, my diabetes medicines were stopped. My BP and Cholesterol medication were also stopped within 3 months. That's not all: from 93 kg, I dropped to 72 kg—a loss to 21 kgs!
Now my cholesterol is normal, my kidney function is improved, my HSCRP (inflammation came down from 3.7 to 0.7), my uric acid levels became normal, my TSH levels came normal and my fasting insulin levels reduced from 15.5 to 5.4 showing a dramatic reduction in insulin resistance.
I feel very energetic, light, and very healthy. My face has regained its earlier glow and I receive regular compliments about how young I look
I feel fortunate to have been associated with such a wonderful organization. The guidance I received from my FFD doctor, dietician, and exercise expert was superb. They have changed my life completely.
Thank you,
Team FFD.