How I lost 15Kg and Became Fitter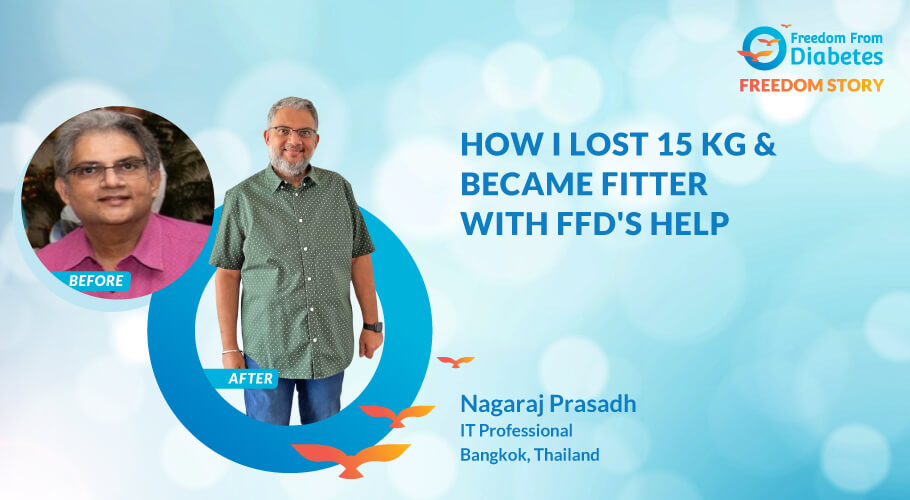 Weight Loss success story of Mr. Nagraj Prasadh
Name- Nagaraj Prasadh
Profession- IT Professional
Place - Bangkok, Thailand
My encounter with FFD can be described in one word "Destiny". I work in a global Banking & Financial Technology products company as the Country Head based in Bangkok, Thailand. Though active, I always carried excess weight.
With my weight, I knew I was on the borderline of becoming not only a diabetic but also have other complications. I was lucky to have evaded any health issues thus far but wanted to get on the right path to get healthy.
I was used to yo-yo diets, protein shakes, and such but nothing was long-term. It all used to bounce right back once the plan ceased. I wanted something holistic and long-term. So the healing had to be from deep within. From about 116 kgs, I managed to remain stable at 111 kgs for a long time and was plateaued out at 111 kgs when I decided to plunge right into a fitness regimen.

It so happened that a classmate from school was joining batch 68 and she asked me if I had heard of Dr. Tripathi and Freedom from Diabetes. I had not, but decided to research more so I could offer her some inputs. By the time, I did my research for her, I myself decided to join the program as a non-diabetic!

I first attended the online first session of Dr. Pramod Tripathi sir and then immediately enrolled in the Intensive Reversal Program (IRP) batch 68. The blessing was not being a diabetic and if I had to stay that way I had to embark on the FFD program right away and I did just that. Started with the phase 1 protocol.

In a little less than 2 months since I began on FFD, I have lost over 15 kgs. This has been a miracle and no other diet or exercise regime could successfully move my stuck-up weight like FFD. Though I am not a diabetic, I still track my blood sugar regularly out of interest, and they are in the range of 70-75 mg/dL (fasting) and 100-120 mg/dL (postprandial).


Now the question is what does weight loss do?


Weight loss brings in a myriad of joys - the ability to buy readymade clothing, climbing stairs without the heart bursting out of the chest, ability to keep off cookies, chips, namkeen, chaat, samosas, and all other junk food is a huge victory.
The joy of enjoying filter coffee, a habit of over 4 decades just given up in 1 day! Have been a vegetarian all my life and now turning vegan has been a boon.Physical activity of exercises was a big chore. Since being in FFD - rain or shine I do at least 5 km a day of brisk walk or run. The lethargy has just gone away. The temptation to go back to the old lifestyle has just vanished.

Now, I know and am confident that I have taken a wise step by joining FFD.
Thanks, To,
Team FFD and Dr. Pramod Tripathi