Nitesh Raviraj Dalvi: A big HbA1c drop from 12% to 6.3%... with FFD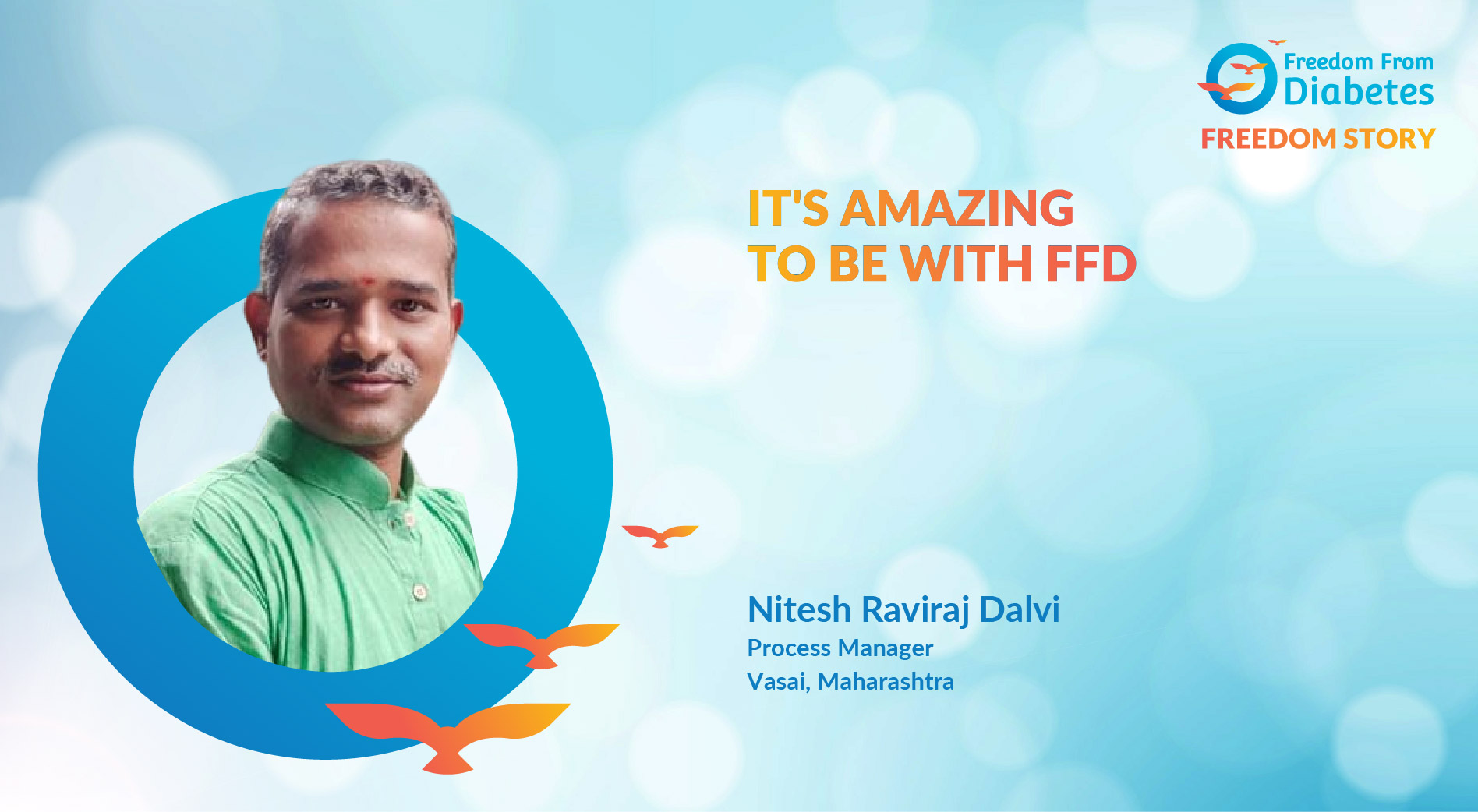 It's amazing to be with FFD
Name- Mr.

Nitesh

Raviraj

Dalvi

Age- 42 Years Young
Profession- Process Manager
Place - Vasai, Maharashtra
What triggered me to join FFD?


I needed to be fit and healthy as I have to stand up for my family. Also, I never wanted to be on medication for a lifetime.
Introduction


Hi
I'm Nitesh Raviraj Dalvi, 42-year-young from Vasai, Maharashtra. I work as a process manager in an IT firm with an experience of more than 19 years. There is a lot of workload pressure present. My mother has been a diabetic for the past 18 years.
My diabetes diagnosis


Diabetes was diagnosed in the 2018 routine check-up. "The news was a bit shocking as I was just 38 years old." The doctor put me on anti-diabetic oral medication to control my sugar level.
Problems I faced


The main symptom that was bothering me was tiredness. This was hampering my day-to-day life. I also suffered from frequent urination, obesity, skin issues, and constipation.
Mr. Nitesh Raviraj Dalvi
How did I get to know about FFD?


I had stopped medicine on my own. But after 8 months or so, started feeling tired and giddy. So I did a routine check-up and found that the sugar level had increased drastically in February 2022. Due to this, I had to restart my medicine.

Internally, I never wanted to be on it for a lifetime so started searching on the web and other social media channels.

I am a follower of Dr. B. M. Hegde so I came to know about Dr. Pramod Tripathi in his speech. Later on, "I gathered information about Dr. Tripathi and the FFD organization."
FFD journey


The online introductory session DRS was very inspiring which made me join the FFD diabetes reversal program HTP batch 80.
When I enrolled in the FFD program, my weight was 60 kg and my HbA1c was 12%. I started following the FFD protocol the very next day after enrolling in the FFD program and lost 5 kg within a month.

My medicine dosage was reduced within 15 days. After a month, my PP1 had become normal but PP2 and PP3 were fluctuating. The FFD doctor monitored my sugar level throughout and made appropriate dose adjustments.

When phase 1.2 started I lost 9 kg and my BMI was less than 23.
After getting all the tests done after 3 months, "I observed my HBA1C reduced from 12% to 6.3% which was a great achievement." My medicine was on then. I continued following all the instructions and finally, my doctor advised me to stop medicine in July month ( after 4 months).
Impression


This is an amazing feeling. I feel very energetic and active all the time.

"I am thankful to Dr. Pramod Tripathi and the entire FFD team for guiding all of us throughout this journey. Also, I am thankful to my family for their support too as it wouldn't be possible without them."

Key Takeaways
Freedom from medicine
Big HbA1c drop (from 12% to 6.3%)
Energetic & active