GTT VEER WHO CLEARED HEART BLOCKAGES TOO!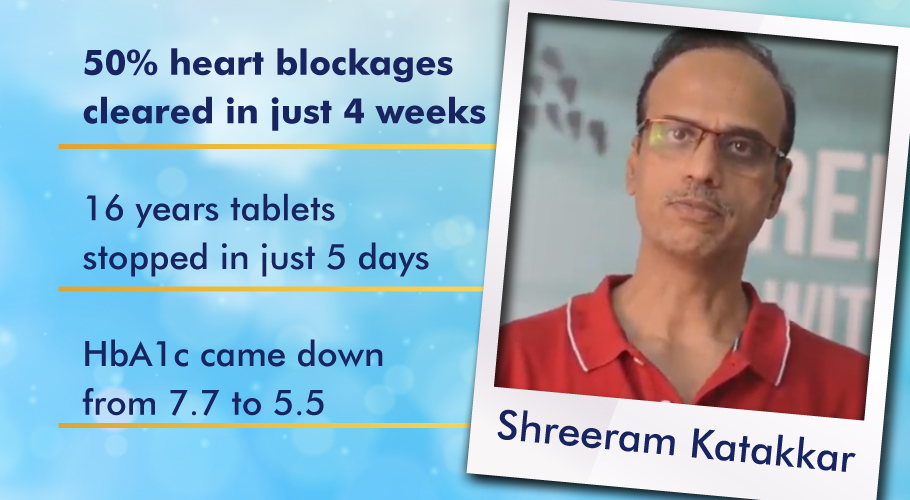 Hello.. This is Shreeram Katakkar, age 53 years, mechanical engineer, owner of an IT company in Aundh, Pune. My diabetes was detected long before in 2003 and my treatment started with one medication. Later, because of pressure of work and other reasons, my medicines increased to 4 tablets a day, which I was taking for almost 10 years. In July 2017, I came to know about Dr Tripathi sir and initially only did the basic program of FFD. To my surprise, on the very 5th day my doctor advised me to stop the tablets because I had visited him with a feeling that I would faint. This was a pleasant surprise for me. After that, I did all the 14 tests. At that time, my HbA1c was 7.7. I kept following the diet regularly and checked the HbA1c after every 3 months. Now, to check whether I had really cured from diabetes or not, I decided to join the Intensive Program of FFD in May 2018 where close monitoring of the patients is done throughout. Till then, my HbA1c had come down to 6.2. After regular follow-up and checkup my HbA1c is 5.5 now. All my medicines are stopped. I have appeared for GTT and cleared it successfully.
One more thing that I would like to share with you all is that in 2015, I was detected to have heart blockages and my angiography showed the blockages to be around 50%. I was started on heavy medications for it. In 2017, the doctors told me that the blockages had increased and I might have to undergo angiography and angioplasty again. But by the grace of God, when I took the second opinion, I was advised to see Dr Pramod Tripathi and told that if my diabetes gets under control there are chances that I might come out of these other problems as well. After starting the FFD diet just within 4 weeks all my blockages were cleared.
This was a real life changing and dream come true experience for me. Many thanks to Dr Tripathi and his team.
Hear the complete reversal story @ https://soundcloud.com/dr-pramod-tripathi/ep-24-freedom-from-daibetise-ep-04-12-18-shreeram-katakkar
To know more about our programs
Reach us at 7776077760