A Retired Principal's Story of Diabetes Reversal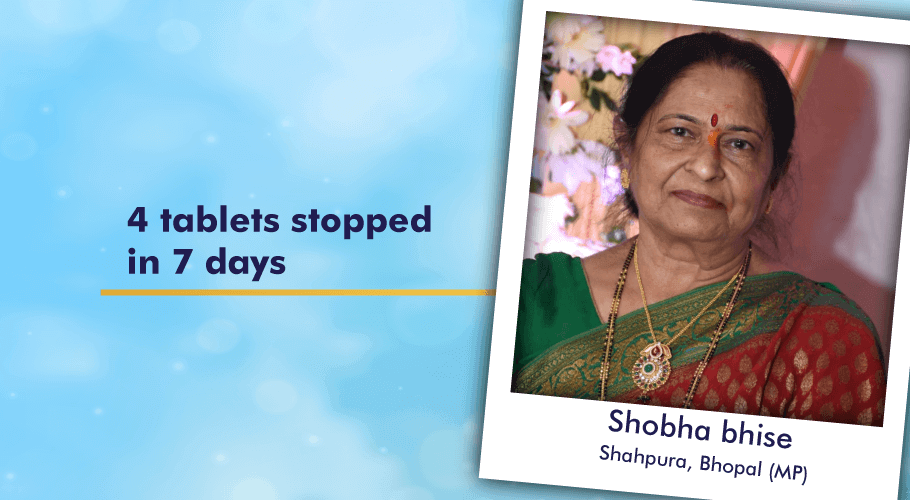 Diabetes Reversal Success Story: 4 Tablet stopped in 7 days
Name- Mrs. Shobha Bhise
Age- 77 years
Profession- Retired as Principal
Place - Bhopal
Hi, I am Shobha Bhise, 77 years old, M.Sc (Zoology), PGT (Biology) Kendriya Vidyalay, Bhopal, retired as Principal.
I had diabetes for the last 14 years, high BP for 18 years, and underwent angioplasty in 2008.
I joined FFD in 2019. Earlier, I was taking 4 tablets per day for diabetes. After joining FFD, all my medicines were stopped within one week and since then I am not taking any medicine for diabetes.
My BSL readings are fasting 97, PP1 131, PP2 128, and PP3 are 139. I do warm-up exercise, super brain yoga, other yoga exercises, resistance band, nitric oxide dump, stair climbing, Pranayam, and meditation on a regular basis.
Following the inner transformation protocol properly, I noticed a behavioral change in me. I have become more positive, anger in me has reduced as well as stress and anxiety. Overall, I am feeling good,
My sincere thanks to Diabetes specialist Dr. Pramod Tripathi and his entire team for their untiring efforts to make all of us free from diabetes and to make us happy.
Once again thanks