A software engineer's diabetes reversal story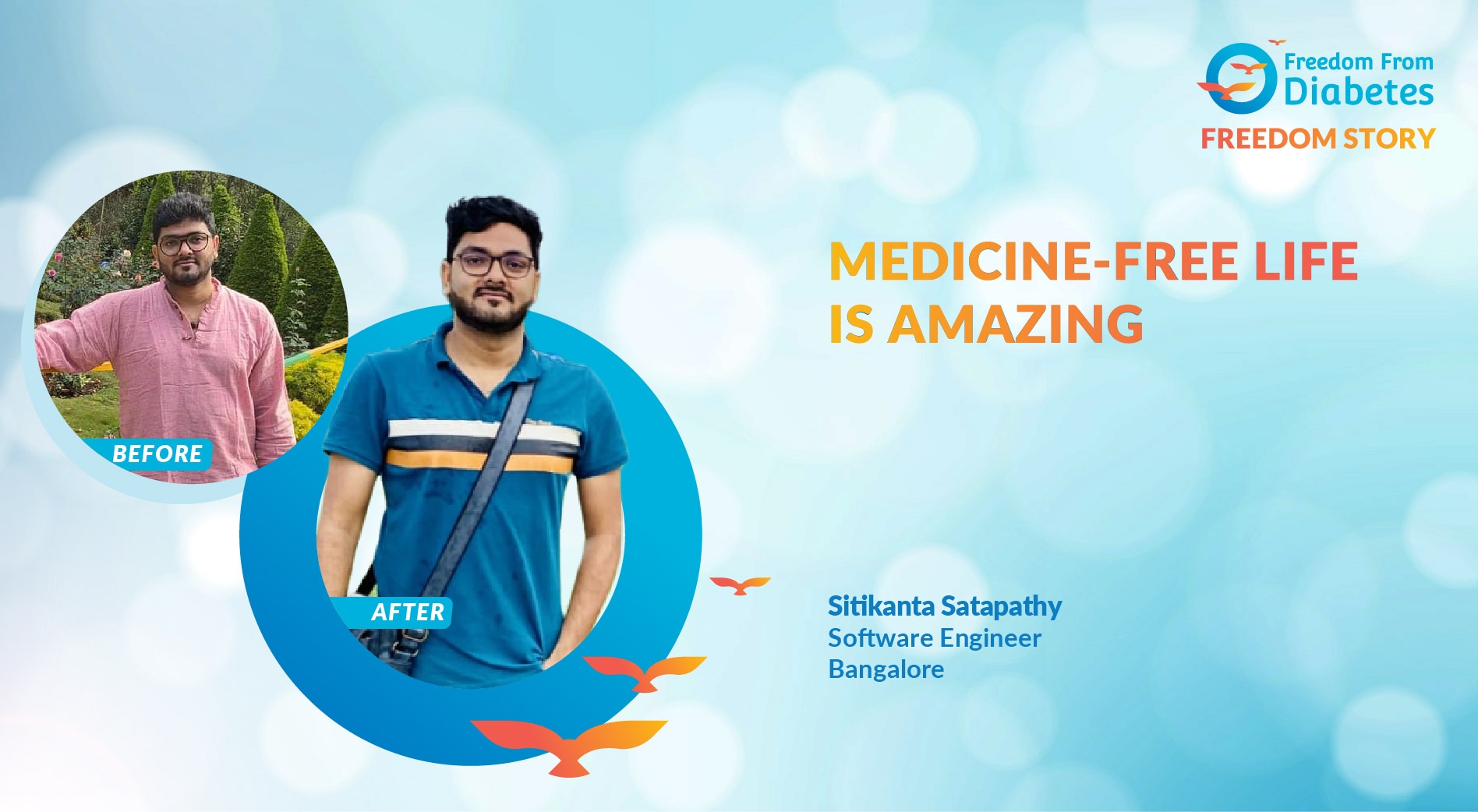 Medicine-free life is amazing
Name- Mr.

Sitikanta

Satapathy

Age- 26 years
Profession- Software Engineer

Place - Bangalore, India
What was the motivating factor in joining FFD?

I got diabetes at a very young age, did not want to go on lifelong medicines, and wanted to reverse it.
Introduction

Hi
I am Sitikanta Satapathy, a 26-year-old, Software Engineer from Bangalore. I do not have any medical history of diabetes in my family but another factor causing diabetes, stress, is present in the form of professional stress.
How did I come to know about my diabetes?

I was given 12 steroid injections during COVID treatment which made my sugar level increase drastically. This is how my struggle with diabetes and fluctuating sugars began.
Mr. Sitikanta Satapathy
Problems I faced

The problems were many, I become stressed and gained weight. Faced eyesight issues too due to insulin and medicine. Also suffered from indigestion and dizziness.
How was FFD introduced to me?

I was looking for some good diabetes treatment and came to know about Freedom from Diabetes on YouTube.
FFD journey

I joined the FFD diabetes reversal program HTP batch 80 which started in April. In a span of only two weeks all my diabetes medicines were stopped. I adhered to the protocol strictly without any cheating and reduced 10 kg.
Impression

Nobody gives an ocean of knowledge about diabetes pros and cons the way FFD does. Even a diabetes specialist doctor will simply prescribe some medicines by seeing your BSL without listening to your concerns. So the way the FFD team educates people to deal with diabetics is appreciated. The journey has been quite amazing for me. I know the path to making myself healthy and happy
Takeaways
Freedom from medicine
10 kg weight loss
Know the path to health