A story of total lifestyle transformation from Noida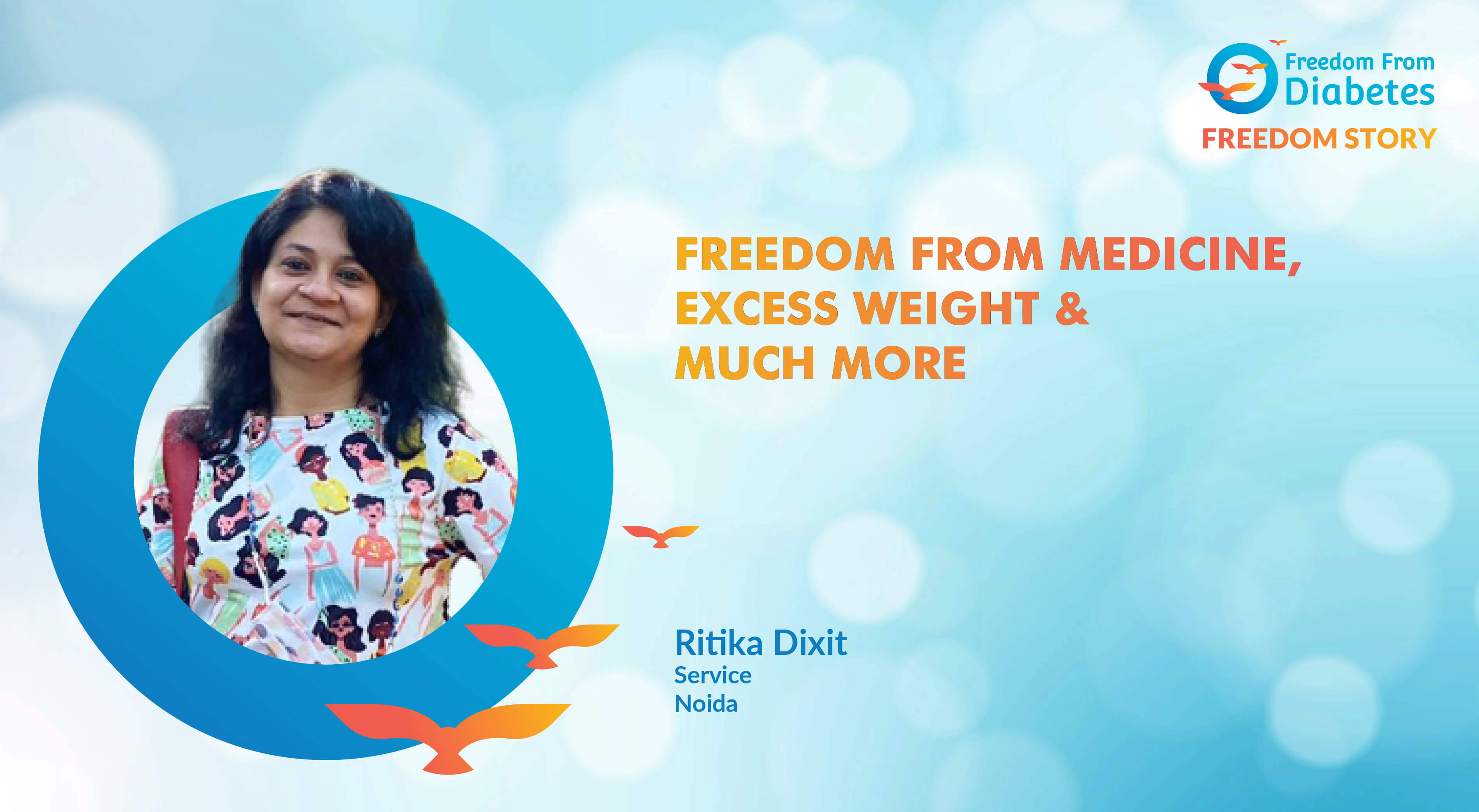 Name- Mrs.

Ritika

Dixit

Age- 39 years
Profession- Service

Place - Noida
What made me join FFD

The speed with which my pre-diabetes turned into diabetes with alarming HbA1c of 9 and the way FFD convinced me that it is the right place.
Introduction

I am Ritika Dixit, 39 years young lady from Noida. The second wave of COVID was very bad for me as all my family members were down with it and required hospitalization. When I came back home after 14 days, I was unable to walk, had a vision problem, a hearing problem and after a month or so I had severe hair fall.
My hair specialist said that I needed to undergo some tests to figure out the problem. That is when my high sugar levels came to notice.
Stress and Lifestyle

I do not have a family history of diabetes on either side. But I am in habit of going under stress. Plus I lived a sedentary lifestyle for 12 years working in BPO, not able to sleep at night. I think these 2 are strong enough reasons for having diabetes.
How I came to FFD
My husband had read it somewhere that diabetes can be reversed. My father-in-law was diabetic and he had witnessed his suffering. My husband researched for me and wanted me to reverse diabetes once and for all. So registered my name for the first session DRS of Dr. Pramod Tripathi. When I went through the session, I got very inspired and thought why not take a chance?
Mrs. Ritika Dixit
Diabetes Reversal Journey
I joined the FFD diabetes reversal program - HTP soon after attending DRS. All 4 protocols are beautifully blended. My medicine stopped in the first month but I suffered from the Dawn phenomenon. My early morning sugars were always high With the FFD team's guidance, my Dawn phenomenon got resolved in 2-3 months.
I am highly grateful to Sayali Bhagwat, Dr. Vaishali Jadhav, Dr. Supriya Joshi, and Dr. Manisha Shah for motivating me. I feel blessed that I had such doctors taking care of me. My BSL is within normal limits now - 100 to 102. I have also shed a considerable amount of weight from 76 kg down to 61 kg.
How Freedom from Diabetes is different


I took a lot of programs for weight loss but nothing worked the way Freedom from Diabetes has. I had consulted with two different doctors before I joined FFD for my diabetes, they just gave me medicine. Did not tell about exercise and inner peace. I feel very light, with no lethargy, and have started doing exercises that I never did before. Nobody treats like FFD.
Takeaway
Medicine free
Lighter in weight
Energetic
The tremendous change in lifestyle