A success story from Florida, U.S.A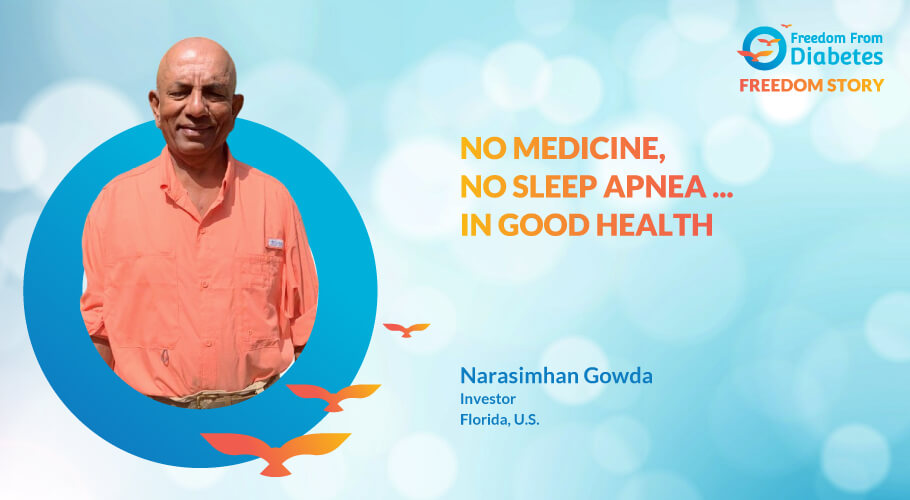 Name- Mr.

Narasimhan

Gowda

Age- 72 years young
Profession- Investor

Place - Florida, U.S.
Sleep apnea was a big issue for me along with diabetes. I anyhow wanted to get rid of it, but did not know would get rid of diabetes medicines too with FFD's help.
Introduction
Hi friends
I am Narasimhan Gowda, a 72 years young, investor from Florida, U.S. I'm retired right now, not working but occupied with certain activities like charity work. Used to own an investment firm in the United States for 40 years. So basically, I am an Investor.
Medical history-wise, my Mother was diagnosed with Diabetes when she was 65. One of my younger brothers also has diabetes.
How was my diabetes diagnosed?
The year 2010 general medical checkup was the time when I first got to know that I had a problem with sugar. I tried to manage it but by 2014, my HbA1c had risen to 10.6 and doctors straight away put me on insulin.
Problems faced due to diabetes and other health issues
In the 1990s I was scheduled for surgery for sleep apnea but did not go for it as I had gotten negative inputs about its less percentage of success So sleep apnea was a major problem for me. Then I took naturopathy treatment from India and got better. This put the confidence that naturopathy works.
Since my wife is a Physician and my kids are doctors I know what diabetes can do so I was very- very cautious but during a whole body checkup in India my fasting sugar was found to be very high and this made me research why all this was happening despite me being physically active. I wanted to stop it before I get into complications. I was on insulin from 2014 to 2019.
Mr. Narasimhan Gowda
How was FFD introduced to me?
I had to find out something other than going through drugs. Is there a way I can control things? I need to know the path, somebody has to show me that, so I was searching around and I heard it online and then Dr. Hegde's video about Dr. Pramod Tripathi and FFD.
I was already looking for it, so just called FFD and joined the FFD diabetes reversal program i.e. Holistic Transformation Program in October 2021.
FFD journey
My aim after joining this organization was to get out of this and get all the help I can get from FFD to go further on that. I was able to get out of Glyxambi within one month and within five to six weeks I was out of all three medications. Till today I have not taken any medications. It is almost 10 months now that I am free.
Impression/suggestion
I feel like I'm very energetic and have a healthy life now compared to before. FFD's education system is exceptionally good. Another thing about FFD is they gave me more information than I wanted and more than I expected.
Freedom from medicines is saving a lot of my money too. So I have both health and wealth benefits.
Thank you, FFD.
Takeaways
Freedom from medicine.
Freedom from sleep apnea.
More knowledgeable.