A type 2 diabetes success story of a fruitful journey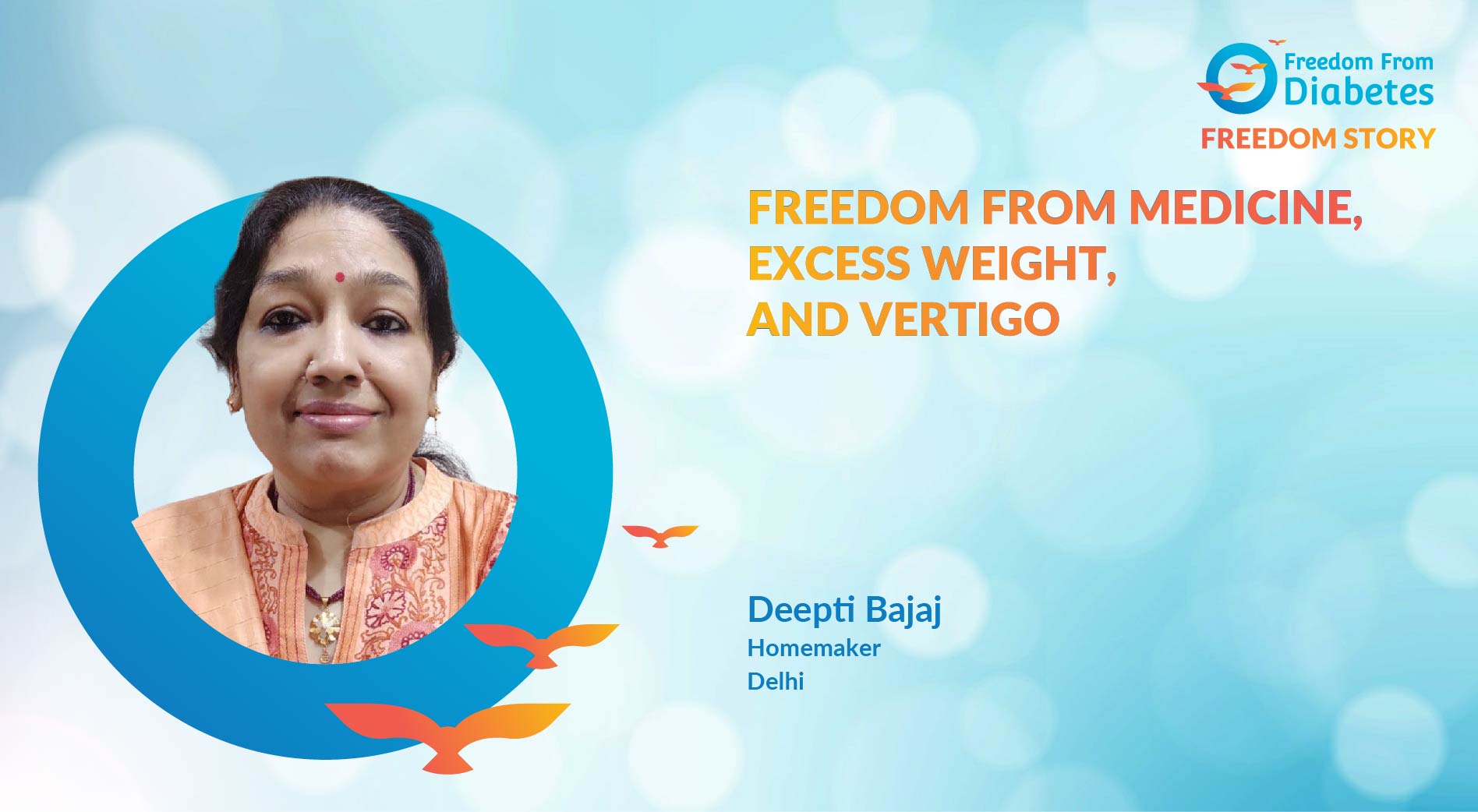 Name- Mrs.

Deepti

Bajaj

Age- 58 years
Profession- Homemaker

Place - Delhi, India
What made me join FFD?

I had compounding health problems after COVID. My son motivated me to join Freedom from Diabetes.
Introduction

Hello

I am Deepti Bajaj, a 58 years old Homemaker from Delhi. I am a postgraduate by qualification. Medical history-wise, my father, grandfather, and uncle were diabetic.
So I have a strong history of diabetes.
How did I get to know I was diabetic?
I was a pre-diabetic for more than four years, but my sugar level was under control. After I contracted COVID during the second wave in 2021 and got hospitalized, I became a full diabetic patient. During that time, my blood sugar levels were high due to the intake of steroids and had to take Insulin. After some time, I moved to the oral medication Metformin 500.
Difficulties I faced

As mentioned above, I had compounding health problems after COVID. I had to take medicines for diabetes, had put on a lot of weight, and did not feel fit and energetic. I also experienced breathlessness, vertigo, and consistent pain in my legs and arms. My immune system became weak and I became prone to cough and cold. My thyroid levels were also not behaving normally.

Medication-wise, I was on Insulin for a very brief period (1 month) in 2021 when I was under steroids for COVID treatment. Then moved to Metformin 500 – OD.


Mr. Deepti Bajaj
Other medicines were

Thyrox 100 (which got reduced to Thyrox 75 during the FFD journey), Olmin 20-CH (For Hypertension/ Blood Pressure), and Vertin 16 (For Vertigo but no longer needed now)
My introduction to Freedom from Diabetes

My son came across a video of Dr. B. M Hegde in which he mentioned that there is a doctor in Pune (Dr. Tripathi) who can reverse diabetes and thousands of people are benefitting through him. Taking his reference as a clue, my son searched on the internet and saw Dr. Pramod Tripathi's several videos on YouTube. He was highly impressed. He motivated me and my husband in joining FFD diabetes reversal program HTP.
My FFD journey

The journey so far has been very fruitful, inspiring, and encouraging. The support of the FFD team of doctors, diet experts, exercise experts, and other experts has been excellent. I not only became free of Metformin within 2 weeks of joining the program but could also lose approximately 14 kg of weight in the past 6 months.
The various live sessions given by Dr. Pramod Tripathi were educative and inspiring. Other sessions by Dr. Malhar and several other sessions from various team members on diverse topics helped me understand the reversal process and transformed me completely.
How do I feel now?
I follow the FFD protocol and do yoga and strength training on alternate days. I have gone through diets as advised in various phases (IF, JF, Carb Cycling). Feel very energetic, light, and positive now.

Takeaways
Freedom from medicine
Weight loss of 14 kg
Vertigo resolved
Increased positivity