Akshat Shrivastava: An IT Professional's success story from Bangalore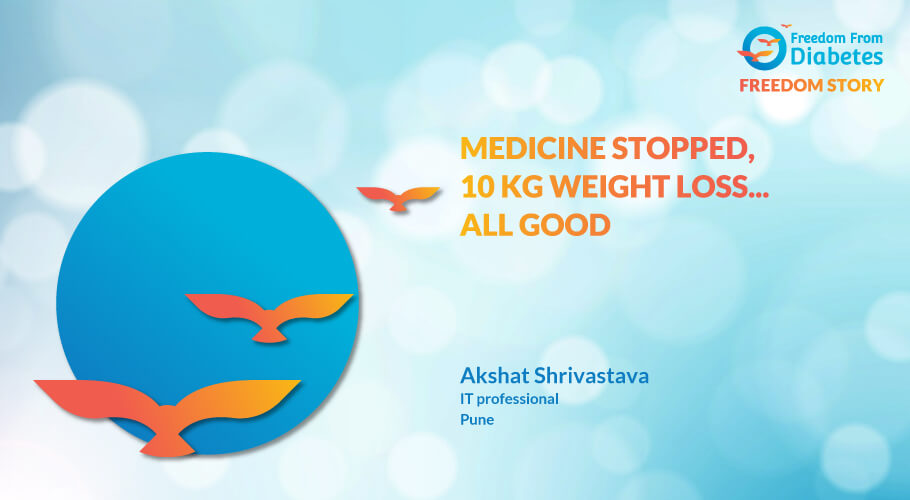 Medicine stopped, 10 kg weight loss... all good
Name- Mr.

Akshat

Shrivastava

Age- 38 Years Young
Profession- IT professional
Place - Pune


Hi all,
I am Akshat Shrivastava, an IT professional from Pune.
My diabetes story

Medical history-wise, both my parents suffer from diabetes. So the chances of me getting it was pretty high. The year 2018 regular medical check-up revealed I too had diabetes.

I did not face any critical issues as such but sometimes suffered from hypoglycemia (low sugar) symptoms.
Introduction to FFD?

FFD was introduced through one of the ASTA webinars.
Why did I choose FFD?

My main motivation was to reverse the condition and live a healthy life which FFD was promising. The introductory webinar by Dr. Pramod Tripathi added to my confidence and I enrolled in FFD's one-year diabetes reversal program - HTP immediately.
Reversal story

My diabetes medicines stopped within two weeks of joining.

The 4 FFD protocols are so powerful that they help in regaining overall health. My health saw improvement in all other parameters too.

My weight loss also has been remarkable, with 10 kg in just four months.

I am proud and happy that I joined FFD at the right time and saved myself from going into complications.

Key quotes

" I feel good, confident, and healthy. Million thanks to Dr. Pramod Tripathi and FFD"

Key takeaways
Medicine stopped
Weight loss 10 kg
In excellent health