An Inspirational Diabetes Reversal Story Straight From Noida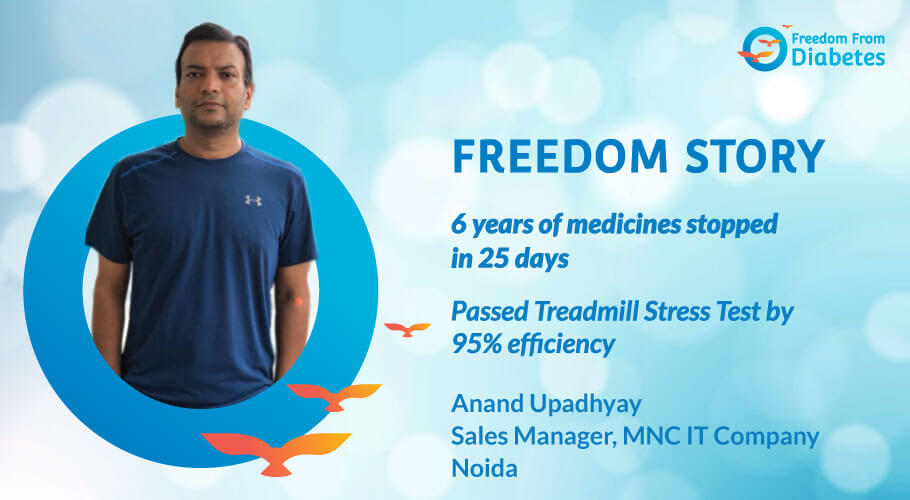 Mr. Anand's 4.5 years of Diabetes Medicine stopped in just 25 days
Name- Mr. Anand Upadhyay
Age- 39 years
Profession- Sales Manager in a multinational IT company
Place - Noida, Uttar Pradesh
"Super Sey Bhi Upar Wala thanks to FFD"
Hello, myself Mr. Anand Upadhyay, age 39 years, works as a Sales Manager in a multinational IT company. I am from Noida, Uttar Pradesh, India. From what I can recall, a few years back, I randomly started feeling few symptoms that were creating discomfort like dry throat, frequent urination, drowsiness.
Then, as per the doctor's advice, I got my tests done and was detected to have diabetes. Like others, I also was started on medication to control my sugar levels.
As the years passed, I started having problems like acidity, gases, fatty liver grade 1. Not only this, but I had also put on a huge weight of around 99.5 kg which was adding to my problems. All this had made my quality of life miserable.
I came to know about "Freedom from Diabetes" through Facebook and participated in Discover Reversal Session on 25th April 2020. In the Diabetes reversal program first session, Diabetes specialist Dr. Tripathi gave us an overview of how diabetes reversal happens.
It was all very logical and convincing and I immediately joined Holistic Transformation Program Batch 58. I started following the FFD's Diabetes Reversal protocol sincerely. As the program progressed, I also had several queries regarding diet and exercise. These were solved there and then by the concerned people which helped me a lot.
My diabetes medicines which I was taking for more than 4.5 years stopped in just 25 days. I also lost 20 kg of my weight in a span of just 3 months.
And it does not end here, Me, who had never ever even walked a few kilometers in the past, succeeded in passing Treadmill Stress Test (TMT ) with more than 95% efficiency. All the credit goes to FFD.
All my heart wants to say is " Super sey bhi upar waala thanks to FFD".