August 23 : Top 10 Diabetes Reversal- Health Transformation Stories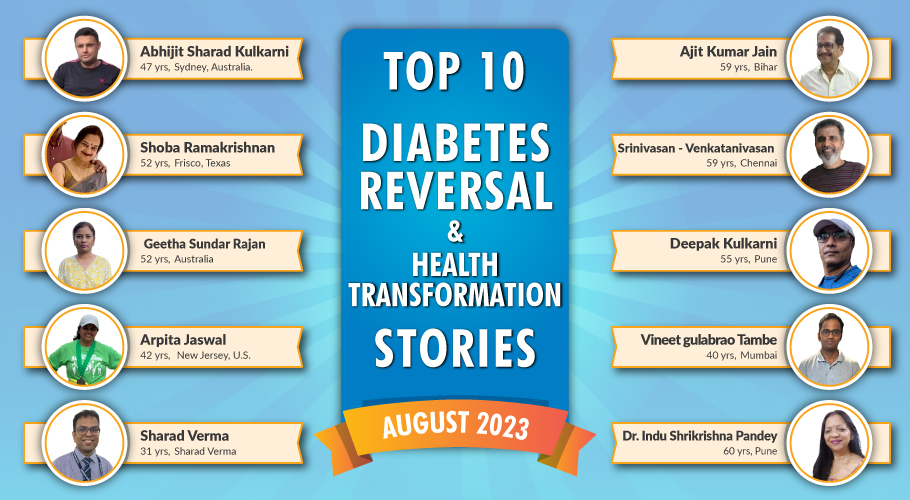 Freedom from Diabetes is dedicated to transforming lives through its comprehensive approach to tackling diabetes and its associated conditions. The month of August has also proven to be a positive period for the Freedom from Diabetes initiative.
Just as India commemorates its Independence Day on the 15th of August, marking a journey towards self-reliance and autonomy, numerous individuals have embarked on their own journey towards freedom from the constraints of diabetes.
Presenting a compilation of remarkable success stories – the top 10 individuals who joined us and are now relishing a life of freedom and rejuvenation.
Top 10 success stories from August 2023

Mr. Abhijit Sharad Kulkarni | Age - 47 Years | Sydney, Australia | Corporate Employee
Abhijit a corporate professional's diagnosis of diabetes was rather unexpected.
Fully embracing FFD protocols resulted in him not only becoming free from medicine but also going on to successfully clearingthe Glucose Tolerance Test (GTT) with flying colours!.
With an impressive decrease of 8.3 points in his HbA1c levels, he is currently enjoying his Life 2.0.
Read his inspiring story here -

Mrs. Shobha Ramakrishnan | Age - 52 Years | Frisco, TX | Business Woman & Entrepreneur
Shoba, an entrepreneur came to know about her diabetes in 2012.
Like most diabetics she too was facing challenges like obesity, elevated cholesterol, and high blood pressure.
Her decision to join FFD ensured she eliminated the need for both insulin and medication. The best part however is she has embraced a more positive outlook on life and is very optimistic.
Read on to get inspired by her complete transformation.

Mrs. Geetha Sundar Rajan | Age - 52 Years | Sydney, Australia | Sr. Solution Architect
This is a beautiful story of diabetes reversal and inner transformation. Geetha became aware of her diabetic condition some five years ago.
Her dislike for medicines made her join FFD and she has never looked back!
Read her full story to learn how!