Bobby Bhandari: An Inspirational story of insulin stoppage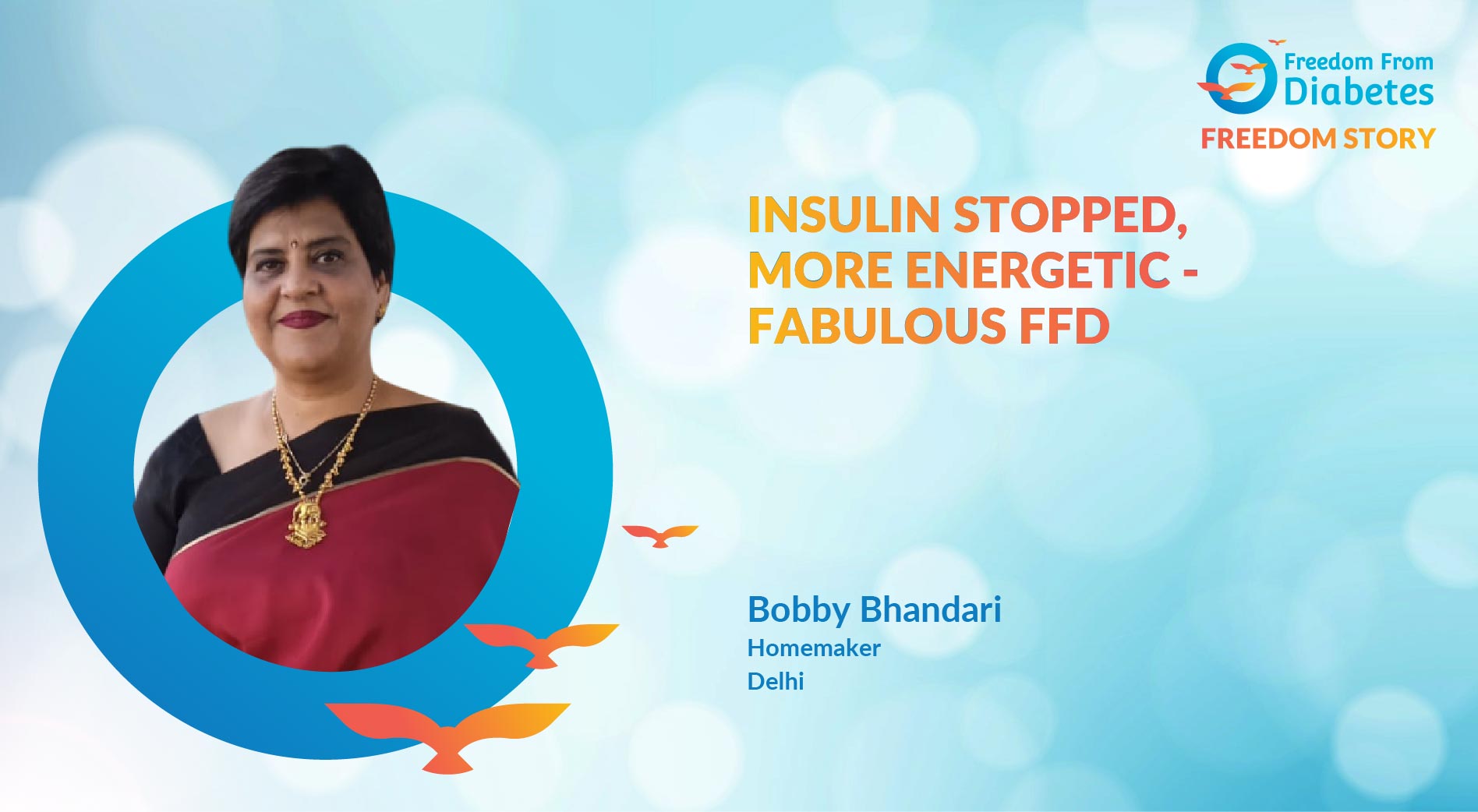 16 units of insulin stopped in 1 month
Name- Mrs.

Bobby

Bhandari

Age- 51 Years Young
Profession- Homemaker
Place - Delhi
Hello friends,
I am Bobby Bhandari a homemaker from Delhi.
Why did I join FFD?

The main aim was to reverse diabetes. I was fed up with having too many medicines and multiple doctor visits.
Diabetes story

Both my parents and sister suffer from diabetes. So there was always a fear that I might get it someday. The year 2012 came with unusual symptoms of a feeling of weakness, trembling, and numbness in the feet.
I already had issues with hypertension so thought this was due to BP, but tests confirmed I had diabetes.
I started with low-potency medicines initially but later on medicines kept increasing and finally I was graduated to 16 units of insulin plus medicines.
Mrs. Bobby Bhandari
How did FFD happen?

I found FFD on Facebook. Then I started listening to Dr. Pramod Tripathi's programs on social media. The 21 days challenge program was very effective and interesting.
I surveyed for almost a year and then joined the FFD's reversal program HTP batch 77.
Reversal story

My insulin stopped within one month of joining which has been the best gain. Further, diabetes medicines too reduced over time.
On the weight front, I have not lost much. Will need to work on it more. There have been a lot of hurdles due to personal losses, but I will get back on track.
I am more active and energetic than before. I wish I could choose the athletic identity of a cyclist but due to kidney issues, I am unable to do it. So will take up yoga in the future.
Key quotes
"Dr. Pramod Tripathi is a great motivator"
Key takeaways
Insulin stopped
More active & energetic