Fasting Helped Control My BSL, Reverse Diabetic Neuropathy & Cholesterol & Lose 15 Kg.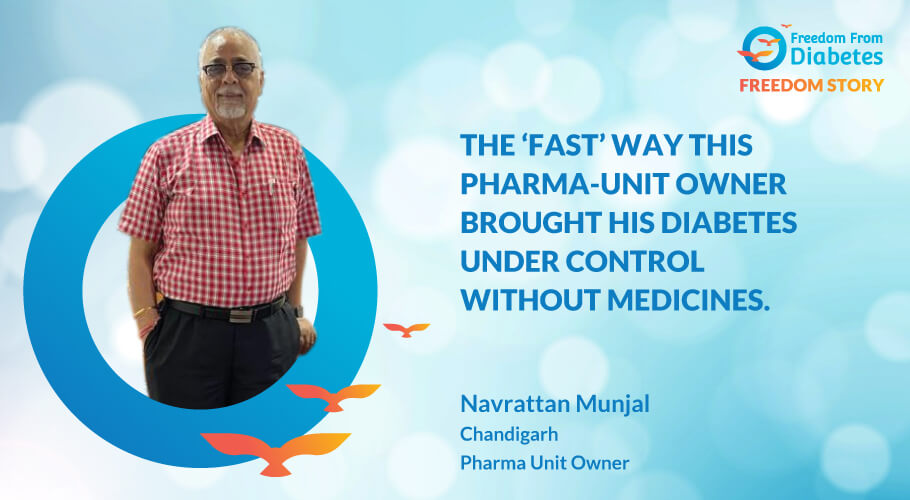 Meet Mr. Navrattan Munjal how they Reverse Diabetic Neuropathy & Cholesterol & Lose 15 Kg
Name-Navrattan Munjal
Profession- Pharma Unit Owner
Place - Chandigarh
From 'always hungry' to fasting for 132 hours. I can't believe I did it. And I can't believe how easy it was. My story begins when I was around 35. As a bit of a workaholic, I never paid much attention to my health, until I realized I was constantly feeling hungry. I also noticed tingling sensations in my legs. something I'd never experienced before. Subsequent tests revealed I was diabetic! Although a paternal history of diabetes runs in my family, I never thought I would fall victim, and at such an early age.
My health issues quickly spiraled, with problems like high BP, benign prostatic hypertrophy, diabetic neuropathy, and obesity to the extent that my BMI reached 38.1. Every doctor I visited had only one piece of advice: lose weight. But that was easier said than done.
One day, while surfing the net, I came across "Freedom from Diabetes" and that began my journey towards health. I visited FFD's website and discovered a treasure trove of information about diabetes reversal and FFD's incredible successes. I also went through their YouTube channel where I found more information…and inspiration. Impressed, I enrolled in the Intensive Reversal Program (Batch 68.)
I religiously followed FFD's famous four protocols and the results soon began to come. First, my medicine dosages started reducing. From 6-8 tablets a day it came down to only 2. Then my cholesterol, neuropathy, and best of all my weight, all began to reduce.
Fasting is a fundamental part of FFD's IRP, as it is considered one of the best ways to heal your body. Initially, I was not sure I would be able to fast. But with the guidance of the FFD team and the moral support of all, including my batch members, I managed to do it. Amazingly, I did not feel hungry at all. The hours rolled by and I soon reached 132 hours. I was feeling fine and wanted to continue, but on the doctor's advice, I broke my fast, on one stipulation. I would do it again!
Throughout the 132 hours of my fast, my blood sugar was well under control, without any medication. In fact, one night I had to eat dates before sleeping as my pp3 had dropped to 80. Fasting has worked fantastically for me. I feel very energetic now. And I have lost 15 kg. I know I have to go a long way to go, but now I have a new confidence I can do it.
A big thank you to Dr. Pramod Tripathi, team FFD, and my batch mates. I can honestly say it was a life-changing experience.
Thank you
Team FFD