FFD - Turning Point of my Life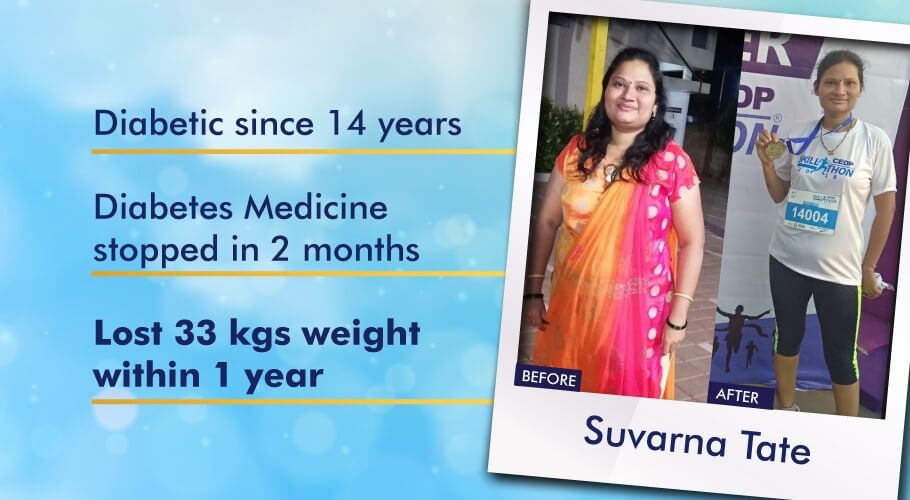 Hello, Suvarna Tate from Thane, age 38 years, diabetic for the last 13 years.
I was taking 5 tablets a day. I came to know about Freedom from Diabetes from one of my friends and we attended the basic program in Thane.
After attending the Diabetes Reversal program, I started following the FFD diet and exercise. Then on 17th March, I attended the Foundation Program in Pune and enrolled for Intensive Batch 39.
During the second phase of the Intensive, I started intermittent fasting and juice feasting. I am pleased to share that I have successfully completed 86 hours of fasting.

Now I am feeling light, energetic, satisfied, and very happy. During fasting, I also did jogging, walking, strength exercise, and shaking and tapping.

I would also like to share that 22 days back, I had done 62 hours of fasting.
On 25 January 2018, I weighed 92 Kg and by May 2018 my weight had reduced down to 68.2 Kg. All of my 5 tablets have been stopped.
I am pleased to let you know that my current weight as of August 2019 is 59 Kg and it is stable for the last 1 year. In the last 1 year, I have participated in 3 marathon events of the 10 km category which were held in Thane.
Out of these, I have won 1st and 3rd in skillathon marathon and Decathlon marathon respectively.
I would really like to thank Dr. Pramodji, Vasudha Madam, Dr. Kiran, Dr. Monika, our mentor Shridharji, Dr. Malhar, and the entire FFD team for all their advice, support, and guidance without whom it would not have been possible to achieve these spectacular results.