FFD helped me reverse diabetes and achieve an ideal BMI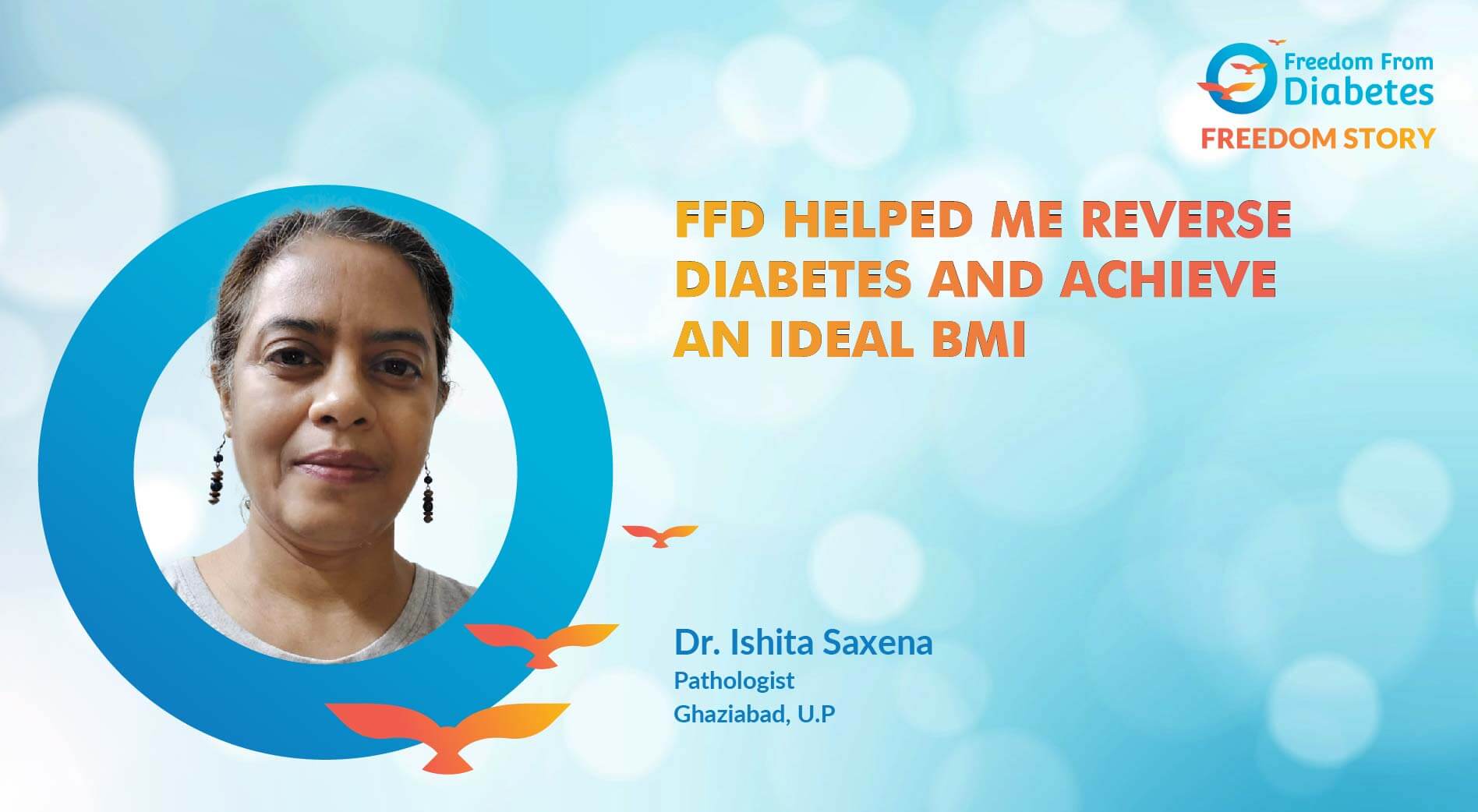 Name- Dr. Ishita Saxena
Age- 52 years
Profession- Pathologist
Place - Ghaziabad, U.P
Good health means the right balance of mind, body, and soul. FFD came into my life and it set everything into place. I am Dr. Ishita Saxena, a 52 years young, pathologist from Ghaziabad.
I was diagnosed with diabetes when I had pneumonia 6 years back. Maybe it was there but I came to know only after the infection which was not responding to routine treatment.
Was put on anti-diabetic medicine Janumet b.d. Fortunately, I do not have anybody in my family who suffers from diabetes.
I faced problems like fatigue, not being able to go out and eat, difficulty in getting up in the morning, and feelings of irritation and anger. All this was pretty annoying.
FFD was introduced to me through a friend of mine which made me visit the YouTube channel and FFD website. The videos of Dr. Pramod Tripathi were very encouraging.
Dr. Ishita Saxena
It was through the FFD website that I came to know about the DRS program - the online introductory program of Dr. Pramod Tripathi which was great.
Immediately joined FFD Diabetes Reversal Program - HTP batch 78 starting from 15th January 2022. I was totally convinced that this is the right way and started taking the FFD diet and exercise protocol sincerely.
It took a while to leave tea, especially in the morning. Also giving up late-night snacks was a bit difficult. Old habits die hard, but due to continuous motivation from the FFD team, I was able to come out of it.
I was always a vegetarian so becoming vegan was not too difficult.Daily seeing people putting up their food photos on Whatsapp was very motivating. It also gave many ideas on how to prepare different kinds of breakfast.
My diabetes medicines stopped within 1 month of starting my FFD program. I lost 6 kg in two months and then again 3 kg when I started juice feasting. Now my BMI is 23 and my weight is ideal at 53 kg.
I had never imagined such a big BMI drop, ever. I came down from a BMI of 27.7 to 23. I regularly do yoga, meditation, and walking; sometimes cycling also.
I am feeling confident and happy. FFD has given me a lot of hope. It has saved me from a lot of anxiety and stress from thinking about the future.
Thank you, FFD.