Found a permanent solution at Freedom from Diabetes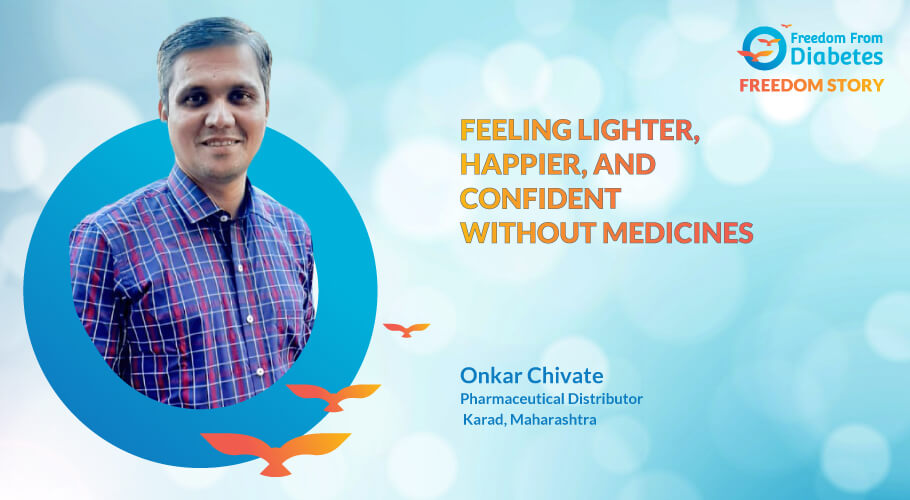 Name- Mr.

Onkar

Chivate

Age- 37 years
Profession- Sr. Manager

Place - MH, Karad
What made me join FFD?

I wanted a permanent solution for my diabetes.
Introduction

Hello friends

I am Onkar Sanjiv Chivate, a 37-year-old gentleman from Karad, Maharashtra. Professionally, I am a Pharmaceutical Distributor and you can say I am aware of what happens in this industry. Medical history-wise, I have a strong family history of diabetes as both my parents and grandparents had it.
How did I come to know about my diabetes?

I was having stomach pain in September 2021 and went to see my doctor. The doctor diagnosed this to be due to kidney stones. Got routine tests done as per the doctor's advice which reflected a high sugar level. Though I have a family history, I never felt I could get it so early. This was not a good piece of news for me.
Difficulties I faced

I did not face any difficulties as I immediately took the right action of joining FFD.


Mr. Onkar Chivate
How I got to know about FFD

My maternal uncle had joined FFD some 5-6 years ago. I observed he had maintained his health consistently so asked him what he had done. He explained and convinced me that going the Freedom from Diabetes way is the right way rather than going the traditional way. So, I decided to join FFD and finally enrolled myself in FFD diabetes reversal program i.e. Holistic Transformation Program (HTP).
My Freedom from Diabetes journey

When I joined I was under the impression that it would take time to set things right and had made up my mind about it. But the magic happened. As I started following the 4 protocols - diet, exercise, inner transformation, and medicine, my sugars started reducing and so did the medicine. It took only 1.5 months for me to reach a medicine-free state. I also lost 15 kg of weight and that too without starving.
Learning and gains

I used to think exercise is only for bodybuilders but FFD taught me it is for everybody. FFD gave me insights about diet too. I have become more knowledgeable after coming here and feel enriched. I am confident as I know what to do even if I lose track for a while. I truly got a permanent solution.
Takeaway
Freedom from medicine
15 kg weight loss
Confident about health