HbA1c reduced from 11 to 6.5 in just 3 months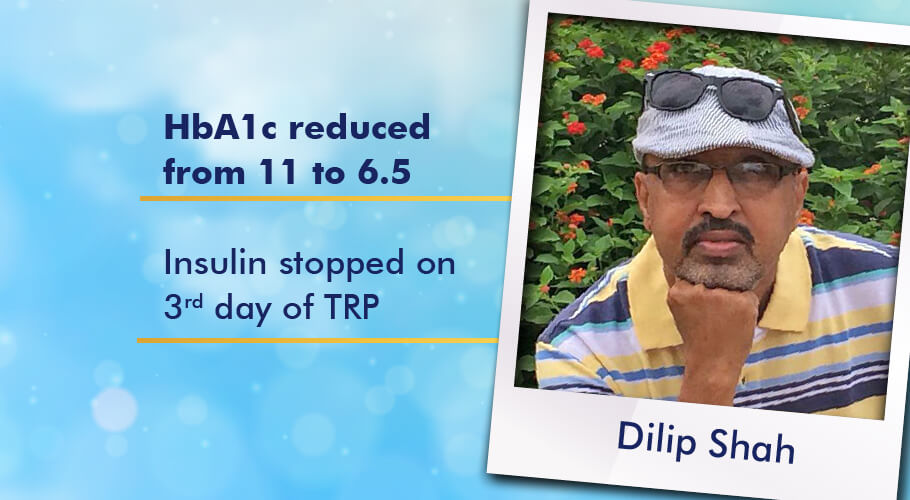 Dilip N Shah from Ahmedabad, 66 years old. My educational qualification is M.com, LLB, CAIIB and SSY Teacher.
I have worked with the Bank of India for more than 42 years in various branches.
I came to know about my diabetes in March 2004 when I was 52 years of age. On 15 June 2018, I saw Dr. Pramod Tripathi's FFD program on Youtube and immediately made up my mind to join TRP and got registered for 10th July 2018, 39 TRP batch.

I am very happy to share that on the very third day my Lantus insulin stopped & by the end of the program on 18 July 2018, I was left with one tablet only.

I took treatment from the most renowned doctors in the City of Ahmedabad like Dr. Parag Shah, Dr. Sanjiv Phatak, Dr. Sabu [ Endocrinologist] but no one could bring my diabetes under control.
My HbA1c had reached 11 points in spite of their treatment but after joining FFD my HbA1c came down to 6.5 points in 3 months' time and all the credit goes to FFD diet and lifestyle.

I was so happy with the outcome that I decided to share my happiness among the people of Ahmedabad and invited diabetes specialist Dr. Tripathiji for the first FFD workshop on 4 September 2018 at Ahmedabad Management Association Hall where more than 70 people participated and by 10 October 2018 more than 20 people had got their diabetes under control and 10 people had got their name registered for TRP also.

My journey to making Ahmedabad diabetes free by FFD way began on Gandhi Jayanti, 2nd October 2018.
I also started 3 times a week smoothie drive to invite more & more people to join with FFD culture in the City of Ahmedabad and got a handsome response to it.
Today, more than 200 people have shared their data & 2000 people heard about FFD & 20,000 people now know what is FFD in Ahmedabad & my yatra is still on.
I am really grateful to Dr. Rituji & Pramodji for all this.
I suggest all enroll in their first session and start reversing your diabetes