How I achieved good health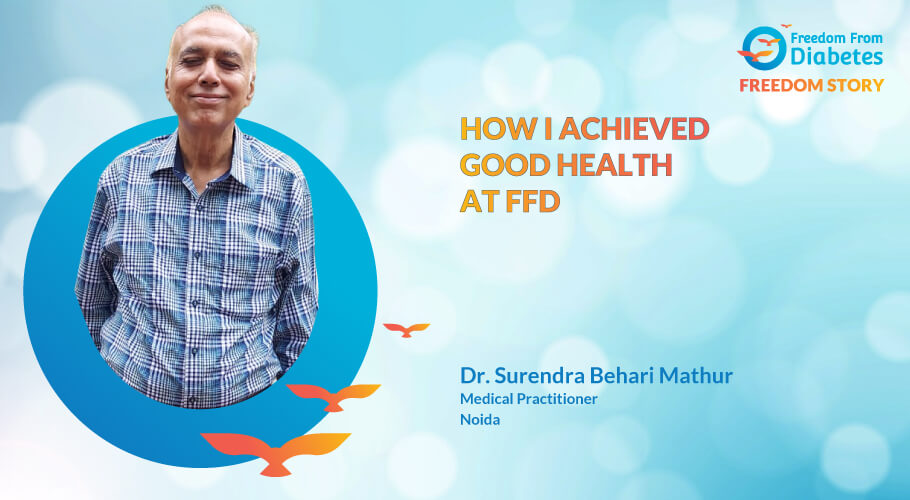 Name- Dr. Surendra Behari Mathur
Age- 71 years
Profession- Medical Practitioner
Place - Noida
Hats off to Dr. Pramod Tripathi and his FFD team. This is thorough knowledge! And who can better understand it other than a medical practitioner?
I am Dr. Surendra Behari Mathur, a 71 years old medical practitioner from Noida. In 2002, I was in the impaired glucose category which progressed to full-blown diabetes by 2005.
It was a routine medical checkup when I got to know about the status. Was started on anti-diabetic medicines from then onwards. I do not clearly remember about parents but my brother and sister do suffer from diabetes.
Over time, by 2011, it was found that my cholesterol levels too were pretty high and so started on medication for that. Just a few years back in 2019, one more medicine got added to my list.
This time for high blood pressure. Being a patient of bronchial asthma I was also on those medicines. All in all, I was not really happy with my health but did not know who would really help me. Got introduced to FFD through one of my relatives. It was a blessing for me.
I attended the online session of Dr. Pramod Tripathi on 19th June 2021 which was great. Being a medico, it was pretty easy for me to understand the whole concept of diabetes reversal. Dr. Tripathi's session just blew me off.
The next involuntary action was to join HTP with aim of getting rid of medicines and becoming fit. My program began in full swing with a phase 1 diet and exercise.
Since I have bronchial asthma, I could not do staircase climbing. At this very initial stage itself, the FFD team showed me their expertise. The exercise team suggested me a Nitric Oxide Dump workout after meals which is an equally effective anti-gravity exercise.
Was aptly suggested remedies for constipation, another of my problems too. Unfortunately, I suffered from COVID which was a setback to me but here too FFD team supported me and I am back on track. FFD has truly changed my life by 360 degrees.
My diabetes medicines have reduced greatly. Weight has come down from 64 kg to 56 kg. HbA1c has reduced from 7.5 to 6.5 which is superb. I feel much better, follow dietary protocol, exercise do everything as per FFD protocol.
Thank you, FFD for giving me great insights on health and making me healthier!