How I achieved Medicine-Free Life and Fitness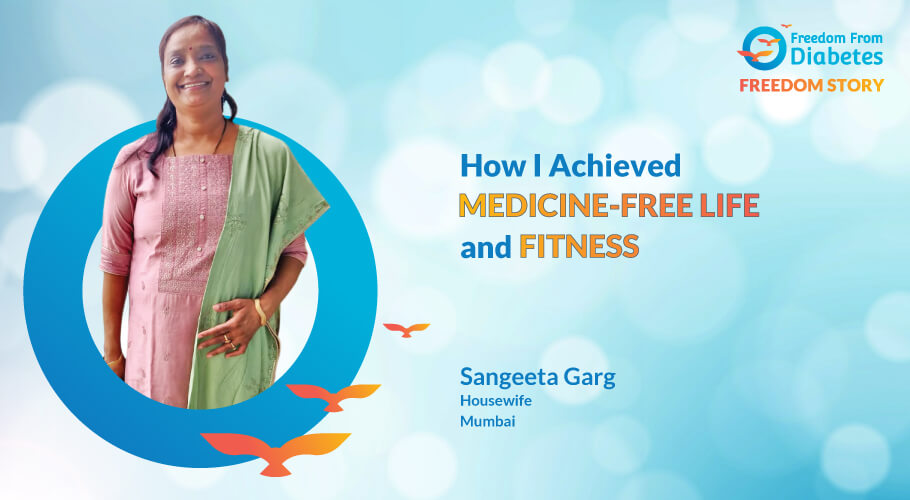 All My Medicines Stopped in Just 15 Days
Name- Mrs. Sangeeta Garg
Age- 51 years
Profession- Housewife
Place - Mumbai, India
Life can get back on track. It is you who have to take yourself seriously and follow the right direction. This is what I did and the miracle happened!
Life has taught me, there are no answers to all questions. When I look back and try to figure out why I got diabetes, I still have no answer. There is no direct history of diabetes in my case.
Though my grandmother (father's mom) had it. My mother in law, father in law both are diabetic but this cannot be taken into consideration. Stress-wise also, nothing drastic ever happened in my life.
From what I can remember, I started suffering from skin issues in 2004. Later it got diagnosed as psoriasis. By 2016, it got worse and so my doctor asked me to get the test done for sugars. Me getting diagnosed with diabetes was quite surprising news for me. As mentioned above, there was no strong reason.
I also was gaining weight side-by-side.
Due to psoriasis, as it is I was feeling embarrassed and now it was diabetes.
My diabetes at one point turned so bad that I had to be put on insulin. It was horrible to inject my own self 3 times a day. The total dosage of insulin went up to 10 to 15 units.
Diabetes, excess weight, skin issues ...nothing was good. Excess weight used to make me feel weak and uncomfortable doing day-to-day activities.
One day I got a message on my Whatsapp family group about Dr. Pramod Tripathi's FFD's Diabetes Reversal program which was a ray of hope to me. I immediately joined FFD.
Joining FFD was like a magical wheel spinning to my luckiest number at one shot.
I feel my story can fall in the category of "Diabetes Inspirational Stories".
The 4 Diabetes Reversal protocols of FFD changed the game.
My insulin stopped in just 5 days. Soon my medicine for cholesterol and diabetes also stopped. I can say all my medicines stopped in just 15 days span. Absolutely wonderful!
I was doing exercises but the FFD exercise team aptly advised me about modified exercises. They guided me to do all types of exercises and split exercises into days.
When asked about what Athletic identity I would choose, I opted for becoming a yogi by choosing yoga.
The dedication of the diet team also cannot be ignored. They encouraged me to follow the diet plans as recommended.
I feel very happy now. I was very much a lethargic person when it used to come on exercise and yoga but now I rigorously follow FFD exercise protocol. All the FFD doctors are so very supportive.
My best wishes to each and every person at FFD.