How I became medicine-free and fit with FFD's Help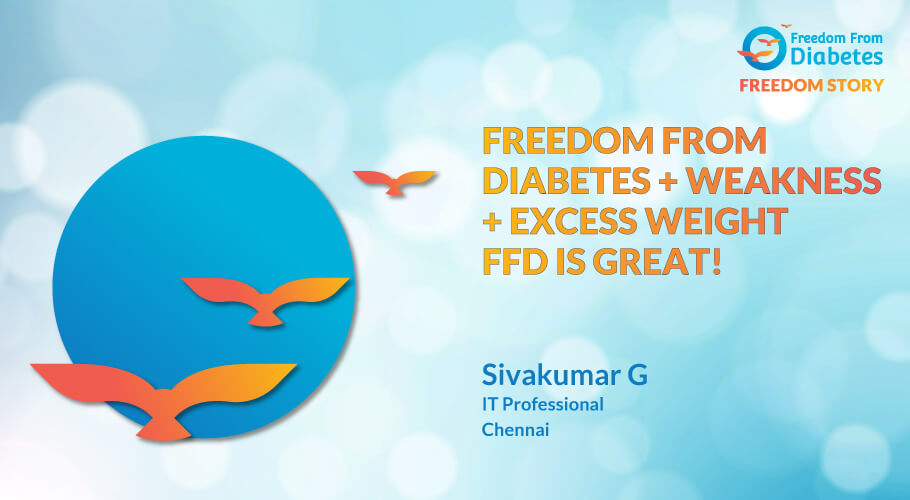 Name- Mr.

Sivakumar

G

Age- 47 years
Profession- IT Professional
Place - Chennai
A coin has 2 sides. We mostly tend to look at one side which we feel is good and neglect the other. The same thing happened to me. I remember the time I got diagnosed with diabetes.
During those few years, I traveled a lot and worked more hours which I liked to do then. But it had a negative effect on my health. If it was not for FFD, I would not have understood what damage overwork caused and come out of it successfully.
I am Sivakumar G, 47 years young, IT professional from Chennai. My job profile requires me to do a desk job meaning it is mostly sedentary. My mother is a diabetic.
When I was around 40 years of age, I got a urinary infection that would not go. Although my sugars were a little high, doctors asked me to start medicine so that the infection goes away. This is how it started and I have been on medicines since that time.
Looking back, I strongly feel it is the professional stress and overwork that would have caused more damage in my case.
I faced some problems like fatigue, weakness, and eventual loss of confidence that I felt were due to the medications. Later on, at FFD, I came to know that being on medicines for a longer duration also has its side effects.
I took Voglitor for morning and night and 1 Janumet for the night alone. I also took XTOR for cholesterol. I did not want to be on medicines as they were giving me a lot many problems. But did not know what to do?
One of my friends had joined the FFD diabetes reversal program and asked me to join so that we can be a team pushing each other. I instantly liked the idea.
After attending the Discover Reversal Session of Dr. Pramod Tripathi, we immediately enrolled for HTP batch 78 and thus began our beautiful journey.
I just followed the instructions blindly but it was difficult to not rationalize. The diet pattern with 25% formula and eventually skipping of breakfast for a brief while significantly helped. I did all the morning exercises and the AGE + NOD sincerely.
Interestingly, it made me look less weak and helped in weight loss too. I had done dieting in the past but did not do these exercises which made me look very weak. This time around, it was not the case.
My HTP program had begun in January 2022 and my medicines stopped in March. I had to be restarted on medicines in April with 0.5 Metformin in the night alone which was stopped in 2 weeks again. I am medicine-free since then.
I had joined FFD with the aim to reverse diabetes and maintain a healthy weight which I achieved. My weight reduced from 74 to 65 kg, now stable at 66 kg.
My exercise regime looks somewhat like this
I follow the 3-2-1
3 days at the GYM with a personal trainer
2 days I use the videos in the Live section and do Yoga for stability
1-day cycling with my kids and neighboring kids
I am extremely happy with my progress and would like to thank all the FFD team for all the guidance and support to reach out here.