How I Gained 8 Kg and Got My Type 1 Diabetes Under Control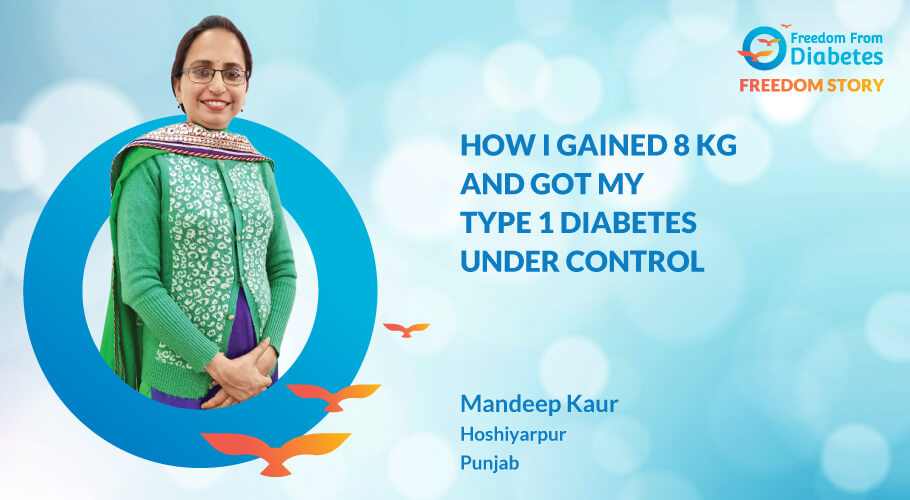 Meet Mrs. Mandeep Kaur How she Gained 8 Kg & Control Type 1 Diabetes
Name- Mrs. Mandeep Kaur
Place - Hoshiyarpur Punjab
Weight Gain- 8 kg gain
Weight loss is always celebrated, but for the chronically underweight, weight gain can be even more of a challenge. When this is compounded by a sluggish thyroid — the gland that regulates energy — and types 1 diabetes, just getting through the day is a struggle. Mandeep Kaur knows. She was hit by this triple whammy and lived through the horror for years. But she won through and is today leading a much healthier and happier life.
When did you first become aware that you had a problem?
Diabetics commonly struggle to lose weight, my problem has been exactly the opposite, but no less frustrating. "Weight Gain".
It was sometime in 2010 when I became aware of my situation. I was on a trip to Dubai with my husband when I was hit by a urinary tract infection and went for a medical check. The report revealed a very high blood sugar level of 508. I was diagnosed with Type 1 diabetes and immediately put on insulin.
I was completely shattered. I have no family history of diabetes and did not know what it entailed.

This was just the start of my misery. Later, at the time of my son's birth, I began having thyroid issues. My energy levels were very low, and if I did any strenuous work I felt very fatigued. In 2018 was diagnosed with hypothyroidism, and medicines for it began as well. I was also plagued with pain in my left leg. Climbing stairs became so painful, I sought orthopedic help.
The doctor explained that there was no problem with my bones and joints; it was my high blood sugar that was causing my problems. I also began getting unexplained black spots on my legs, I started the following naturopathy—with nod al in my diet, but the effect was not noticeable


How did you get back to health?
One day, while surfing Facebook, I came across FFD's posts on diabetes reversal. I went on to do some Googling and was amazed at the information I got. I watched Dr. Pramod Tripathi's videos on Youtube and for the first time felt a surge of hope.
I registered for the 23rd May 2020 online First session of Dr. Pramod Tripathi. The program slides and information was very impressive. Hopeful, but hardly daring to believe I could once more lead a healthy life and I enrolled myself in the 59th Batch of the Intensive Reversal Program (IRP).

I religiously followed all four protocols of the program at IRP
Diet
Exercise
Meditation & Medical
the results were miraculous.

How did the Intensive Reversal Program (IRP) Benefit you?

My energy levels which were so low began to improve, my leg pain disappeared, and I could do any work without any pain. The issue with dark spots on my leg too was addressed. In fact, the lack of protein in my diet was a contributing cause. Once my diet was corrected by FFD's diet experts, this problem was resolved. My legs look absolutely normal again.
Above all, and this is the best part of my journey, I finally began to gain weight. As far back as I can remember, I've always struggled to put on weight. When I joined FFD, my weight was just 40 kg. I am now at 48 kg — and 8 kg gain, and a great achievement for me.
My dream to achieve a good body and a healthy weight can finally come true. I still have to reach my target goal of 55 kg, but with the techniques, tools, and tips I got from FFD, I know I will achieve it. I am in the normal BMI category now and I am so very happy about it.

I am still on insulin, this is a sad but inescapable aspect of being Type 1 diabetic and thyroid medicines, but it is much lower now, and the overall quality of my life is so much better. I look forward to every day with joy, unthinkable a few months ago.

FFD made it possible!! 👍🏻
Program to join - Enroll Now Join our First Online Session from the comfort of your home. FFD's ONLINE FIRST SESSION is the most important session for diabetics to open to the possibility of reversal.
Thanks To,
Team FFD