Impossible is Possible in Freedom from Diabetes.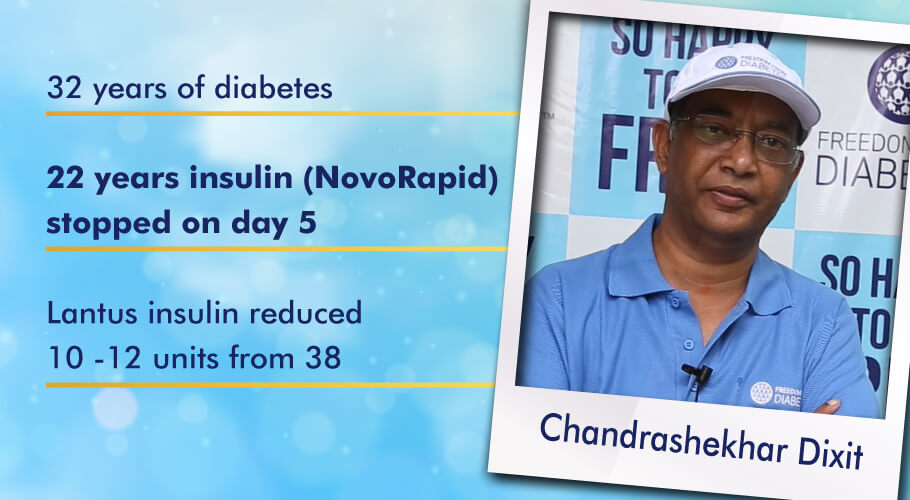 I can definitely say "Impossible is possible"
Namaste, Myself Chandrashekhar Dixit from Hosur, Tamil Nadu. I am 50 years old. My diabetes was detected when I was just 18 years old and for the last 32 years,
I have been diabetic out of which I was taking insulin for 22 years.

Till six months ago, I did not know about the side effects and damages caused by insulin and metformin. This information made me search for whether any diabetes reversal methods or treatments are available.
I also started searching for Diabetes Specialist Dr. Pramod Tripathi's information and whether his treatment is scientific or not. For at least another 2 months I researched on Dr. Pramod Tripathi sir.
Going through the videos and all the information about FFD at the site, an interesting thought went through my mind, that I can treat myself even on the basis of the information available, but later on, I decided to properly join the Diabetes Reversal program and get proper Diabetes treatment.

I joined TRP batch 69. I was on 116-120 units of insulin altogether amongst which one was fast-acting insulin NovoRapid 24-24-24 units along with Metformin 500 mg tablet.
I was also taking several other tablets to avoid complications of diabetes. BP, cholesterol, etc. Later on, I came to know that insulin, as well as tablets, worsen the complications even further.
Initially, having 2 glasses of smoothie in the morning was very difficult. Most interestingly, FFD people don't say that eat less, they recommend eating in their own specific way that is 25% formula. You can eat as many rounds in this manner.
The very next day of TRP my insulin (NovoRapid) dose was reduced to 6 units and my Lantus dose which was 38 units in the night was reduced to 20 directly.
On 6 units NovorRapid.I thought now my fasting sugars would be definitely above 200. ..but it was 95. All this was very overwhelming.
One more thing that I liked very much about FFD TRP is that we were told to talk to doctors and adjust the dose before meals themselves which were decided by the previous PP sugar levels.... a great monitoring concept.
To my surprise, I was told to stop NovoRapid on day 5 which is still unbelievable for me. Now my dose of Lantus has come down to 6 units from a big dose of 38 units.
Till today, I have not seen such a detailed consultation in any other diabetologist's office. ..never seen such an integrated approach.
While leaving, a thorough discussion was done about our current status like BMI, BP, and how we will be getting daily doctor support through the FFD app for the next one month at least which will help close monitoring.
I am pretty confident that in the next 8 days all my tablets will stop.
We were also told about setting goals and how to go for them. According to that, my immediate goal is to pass GTT in January 2020 and get a medal in Muktotsav. Another aim is to start the FFD center at whichever place I am going to settle with the aim that nobody should have diabetes in the place where I live.
Listen to the complete reversal story at http://bit.ly/2M8Wu5B