INSULIN TERMINATOR - FREEDOM FROM 180 UNITS OF INSULIN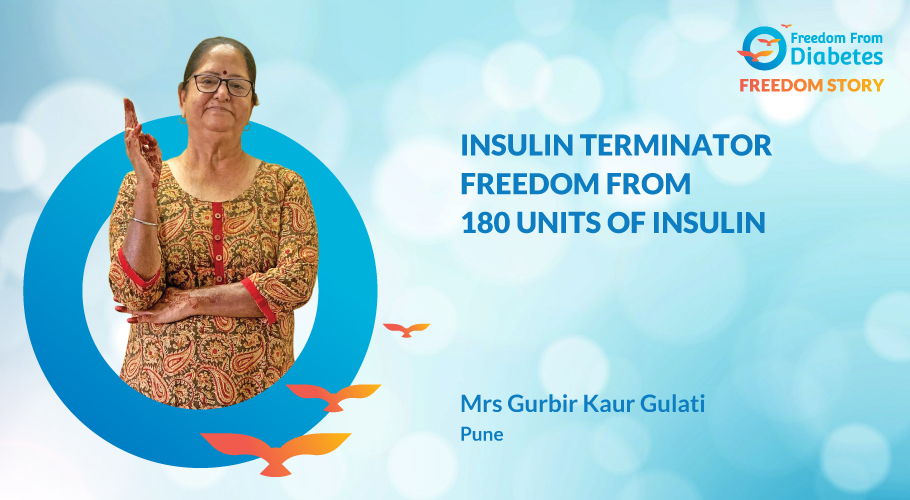 Diabetes, for a common man, means a rise in sugar level or higher sugar level, immediate stoppage of sugar and sweets and the start of anti-diabetic medication/insulin. It also brings in social inhibition and fears it. But it takes time to understand that it does not occur overnight and involves a lot of underlying causes.
I am a homemaker who lives in Pune. In my case, my mother had diabetes but still, I think I got it due to my own nature of getting tensed for even small things. Stress is one of the major factors leading to diabetes.
Some 32-33 years ago, I had suddenly started feeling very thirsty accompanied by feelings of dullness, irritability and body ache. Though I was fulfilling my duties as a homemaker, I used to feel very sleepy and had begun losing interest in all the activities around me. My family members used to be surprised to see me munching something or the other all the time. They had never seen me in such a state of hunger.
This was very unusual and I finally headed to my family doctor. He was not surprised as these were common symptoms and advised me to get my tests done. It was Diabetes!
Medicines started, but my sugars could not be controlled on them for long. So within 2-3 years, the doctor advised me to go on insulin. The dosage went so high that I had to take insulin 4 times a day totaling up to 180 units per day.
My life had become a misery with other problems like constipation, gases, sleep issues, anxiety, fear, anger, depression, high cholesterol, hypertension, hypothyroidism, sensory neuropathy, weight gain, back pain, joint pain, hair loss, edema, skin, knee pain, kidney stone, fatty liver grade 1, and whatnot.
Alongside diabetes medicines and insulin, I was also on medications for BP and high cholesterol for a long time.
My Son-in-Law knew Ms. Pallavi Salunkhe & her sister, Dr. Vaishali Jadhav, from FFD and he insisted me to join it.
The online first session that I initially attended was enough to open my eyes. I could feel Dr. Pramod Tripathi's grip on the subject. This session was like some shloka from Geeta which totally changed my life.
Soon, I enrolled in IRP batch 54. The program's process is quite complete in terms of proper diet, exercise, meditation, yoga, fasting, etc. I followed all of these in a gradual manner and as a result, my 30 years of insulin stopped in around 4 months' time. I was finally free of all the pain of taking insulin 4 times a day .. every day! Happiness had no bounds as FFD nominated me in the category of " Insulin Terminator" in their annual event Muktotsav for achieving freedom from insulin of 30 long years.
I feel really great with no insulin and reduced medications for diabetes. There has been a remarkable improvement in my hypertension and cholesterol levels and am on a reduced dose of medications for it. I go for walks regularly, feel energetic, do yoga....
All thanks to Dr. Pramod Tripathi and FFD for giving me a new life.
FFD's ONLINE FIRST SESSION is the starting point of your road to Freedom From Diabetes. It gives you an overview of how Diabetes Reversal actually happens. Join the online session from the comfort of your home
For details, click at https://bit.ly/3bxW9pv