Interesting reversal story from Georgia, U.S.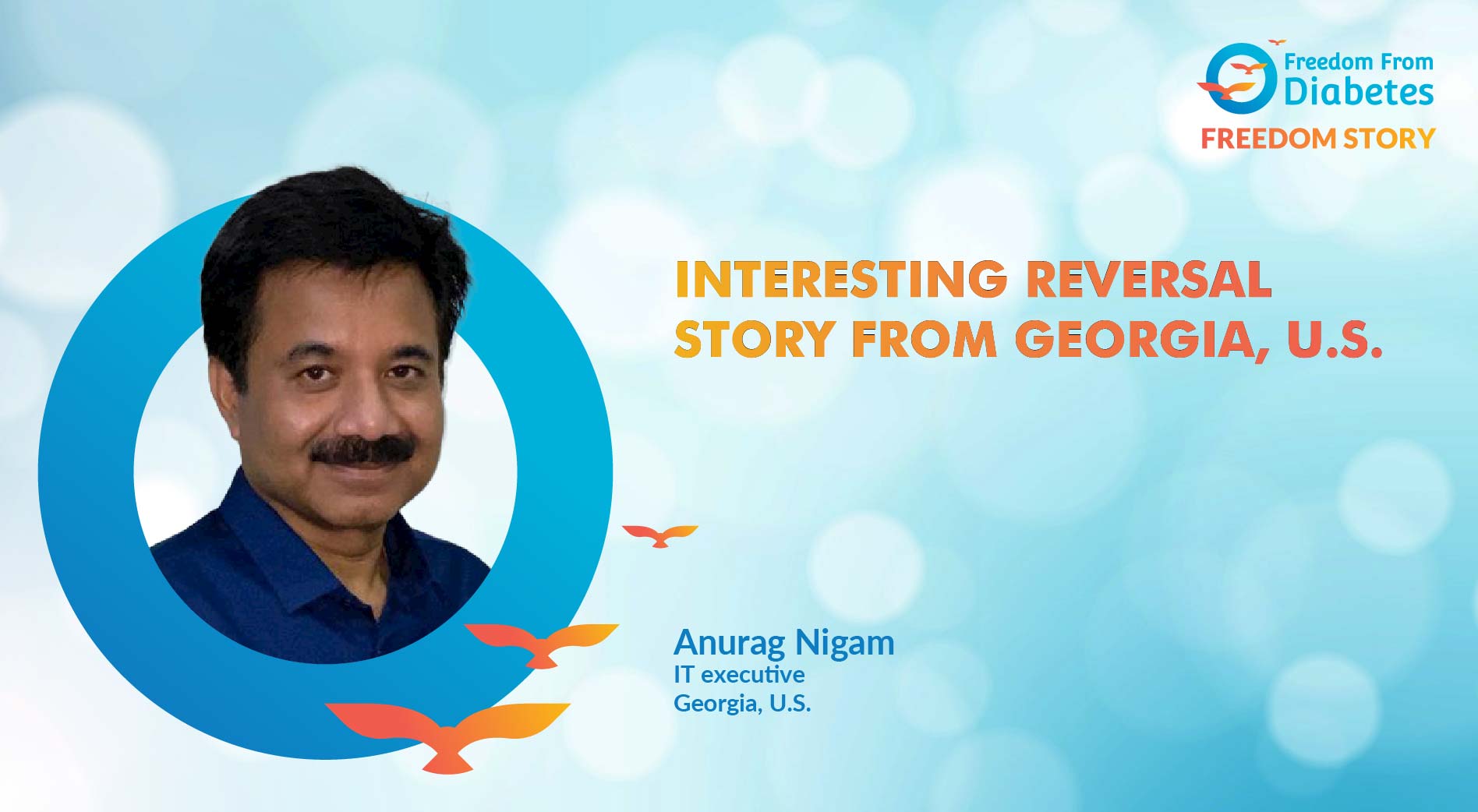 Name- Mr.

Anurag

Nigam

Age- 49 years
Profession- IT executive
Place - Georgia, U.S.
It seems like 'wish became reality' to me. From a person suffering from diabetes and many other ailments for 10+ years to a person becoming completely free of medicines... is just unbelievable.
I am Anurag Nigam, a 49 years young, IT executive in a Fortune 15 company with teams spread across almost all continents: US, Europe, India, China and New Zealand. Leading such an organization requires that I'm always in meetings or on the phone round the clock.
None of my parents have diabetes. I think it is the stress and responsibilities of the job that triggered diabetes in my case. I came to the USA in year 2000 and was diagnosed with diabetes in Year 2012. Given none of my parents have diabetes I was a bit surprised.
I always used to feel tired and had become obese. I think my immunity level also went down significantly as I was catching up allergies and infections very easily. I also had very high triglycerides, high BP and high Cholesterol. Could barely walk half a mile.
Was not taking insulin, but I was on two Metformin 1000 mg twice a day and also Januvia 100 mg. .Clearly, my diabetic medicines were not helping me. In addition, I was also taking the following medicines like Lisinopril 5 mg, Hydrochlorothiazide 25 and Atorvastatin 20 mg.
My HbA1c was 8.8 in March 2021 and my doctor asked me to take insulin. That's when I decided to find something which can help me.
Mr. Anurag Nigam
One of my friends, who is an FFDian, educated me about the FFD program and encouraged me to join it. I joined the IRP 70th batch in May 2021 and a miracle happened.
The 4 protocols of FFD are true pillars of health. My 10 years of diabetes medicines stopped in just 7 days of joining the FFD Diabetes Reversal program - Holistic Transformation Program. It is the best program in the world to reverse diabetes, I think.
Not only diabetes but my overall health also started improving. The BP medications that I was taking since 2014 were stopped within 3-4 months. I got rid of cholesterol medicines also in the same time frame. What an incredible improvement it is!
I feel extremely fit. I feel more strength and energy than before. Now I can run 25 km quite often without stopping and planning to participate in half marathons. I found my athletic identity, thanks to FFD. I was not a believer in Yoga and Meditation but I learned it, and now I'm an avid follower of both - again thanks to FFD.
I follow the 3-2-1 exercise regime suggested by FFD. When it comes to food, I follow the FFD guidelines religiously. My goal is to burn 2500+ calories every day including 620 active calories. I use Apple Watch to monitor it and ensure that I meet my goal by the end of the day every day. It's rare that I miss it, only if I am sick.
The cherry on the cake is I cleared GTT in Nov 2021 - the glucose tolerance test or the litmus test for a diabetic with flying colors. Extremely happy with my progress.
Really grateful to FFD. I discovered myself again - thanks to FFD.