Jeevan S. Borale: The best success story from Bangalore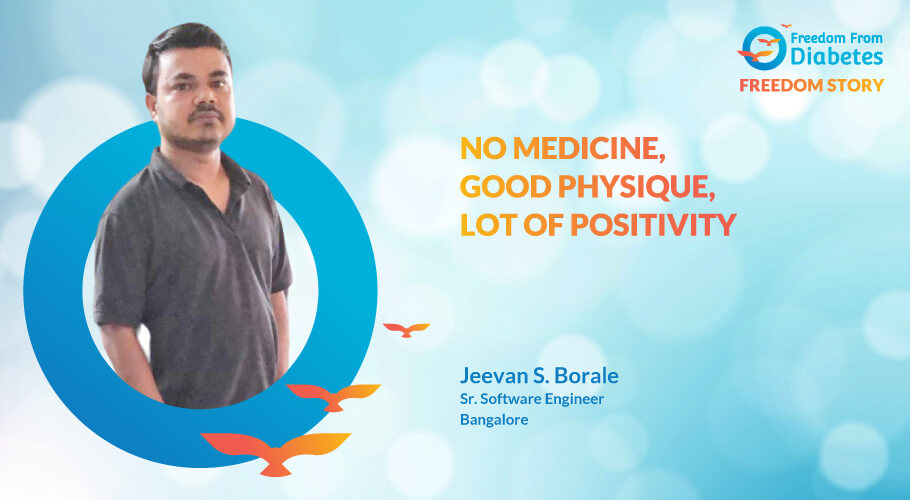 No medicine, good physique, lot of positivity
Name- Mr.

Jeevan

S. Borale
Age- 37 years
Profession- Sr. Software Engineer

Place - Bangalore
Why did I join FFD?
I wanted to reverse diabetes and maintain a good physique.
Introduction
Hi All
I am Jeevan S. Borale, a 37 years young Sr. Software Engineer from Bangalore. There is no family history of diabetes in my case. Stress-wise, there has been some work-related and personal stress.

How did I get to know about my diabetes?
The 2017 routine medical check-up confirmed my diabetes.
Problems faced
I faced a lot of anxiety because of diabetes and BP.
How did I get to know about FFD?
One of my friends referred FFD to me. She is an ex-participant.
Mr. Jeevan S. Borale
My FFD journey
To get an overview, I first attended the online introductory session DRS of Dr. Pramod Tripathi. Soon, I enrolled in the FFD diabetes reversal program HTP batch 80 and began my journey toward good health.
Diabetes medicines have completely stopped, Now, I am only on one tablet for BP and one tablet for cholesterol.
Weight has been reduced by 5 kg.
Impression
I am feeling confident and energetic. Start every day with full positivity. My routine includes exercise and meditation.
Happy being free of medicines.
Takeaways
Medicine free
Good physique
A lot of positivity