Lakshmi Krishna: Reversed diabetes, lost 15 kg of weight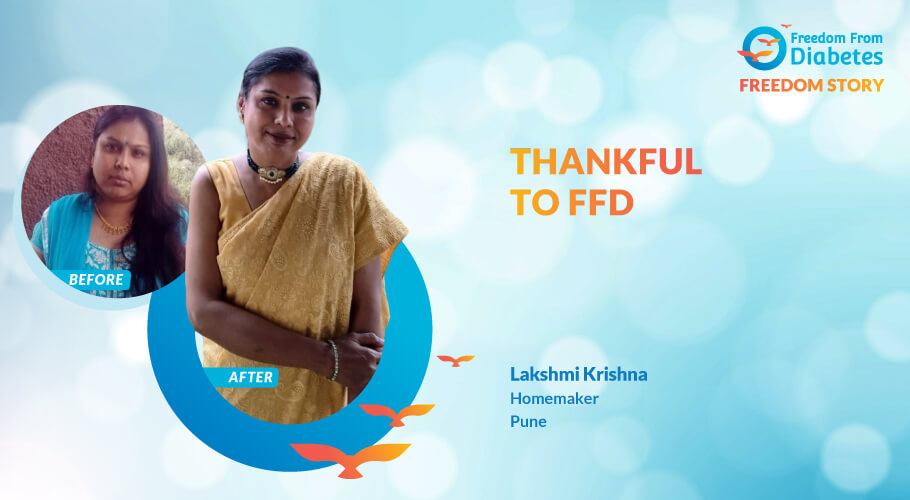 Thankful to FFD
Name- Mrs. Lakshmi Krishna
Age- 49 Years Young
Profession- Homemaker
Place - Pune, India


Hello all,
I'm Lakshmi Krishna, age 49, from Pune.
Diabetes story


A yearly body checkup done in 2021 revealed fluctuating sugars. I had a strong family history as my mother had diabetes. In fact, she even suffered from kidney failure.


Despite knowing all this! I had not paid much attention to my health over the past few years. Somehow I had also put on a lot of weight which was difficult to lose due to hypothyroid.
FFD introduction


One of my husband's colleagues who himself had benefitted tremendously informed us about FFD. His weight loss was just amazing.
Mrs. Lakshmi Krishna

Reversal story


The webinar (
DRS
) of Dr. Pramod Tripathi was very inspiring. Everything about it, the process, and the protocols were convincing. As a result, I enrolled myself in the FFD
diabetes reversal program
(HTP)
batch 77
for diabetes reversal and weight loss.
My diabetes medicines stopped within 15 days of joining HTP.
FFD helped me achieve the most difficult task for a hypothyroid patient, weight loss. I am happy to share I lost 15 kg of stubborn weight.
I love dancing and when asked to choose an athletic identity, I chose it as a means of fitness.
All the FFD team including Dr. Vaishali Jadhav, Dr. Afrin Gilani (exercise expert), Mahesh Chandra (Mentor), and Devika Desai (Diet expert) are very helpful. It would not have been possible without them and my family's support.
Key quotes


"I would like to thank the whole FFD team and Dr. Pramod Tripathi from the bottom of my heart"
"FFD experts never let me down, answered all my questions"


Key takeaways
Medicines stopped
Weight loss of 15 kg
Got praiseworthy team support