Marketing Manager's Beautiful Diabetes Reversal Success Story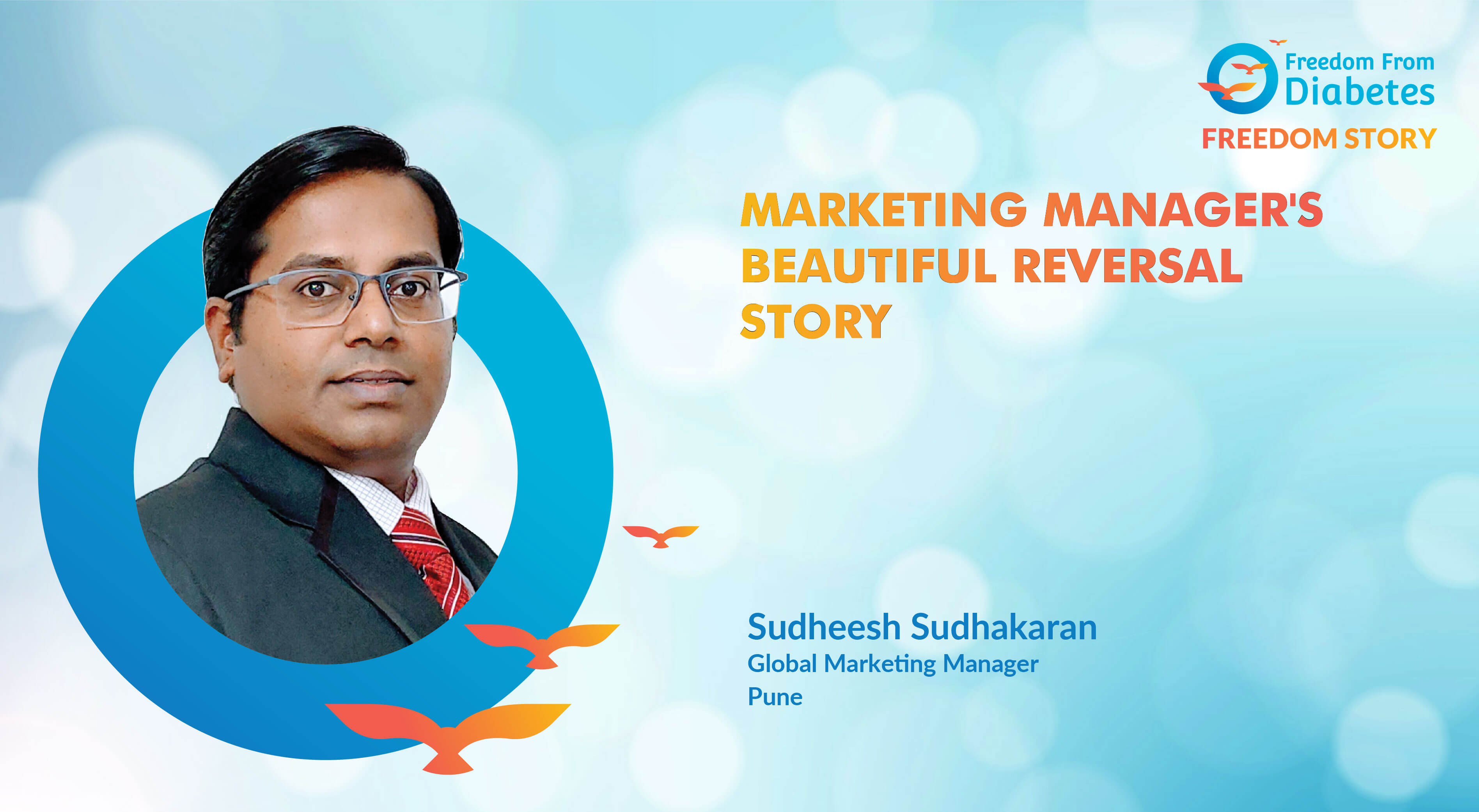 Name- Mr.

Sudheesh

Sudhakaran

Age- 39 years
Profession- Global Marketing Manager
Place - Pune
FFD helped me get back on track... back to a life without medicines, a reinvented version of myself with renewed experience that anything is possible with perseverance.
A common assumption is 'Once you have diabetes, it is forever. Very few know that type 2 diabetes can be reversed and this reversible is sustainable. I also did not know about it but FFD came into my life and changed it completely...for good.
I am Sudheesh Sudhakaran,a Global Marketing Manager from Pune. My Father is a diabetic for 30+years. So I knew what it meant to be a diabetic. Professionally, working as a Marketing Manager and handling global responsibility was pretty stressful. So, there were 2 strong reasons for me to have diabetes.
I got to know about my high blood sugar levels during a routine medical check-up actually. This was around three and half years ago in 2018. The result was not surprising but definitely disturbing. I was just 36 years old then.
I too was started on oral anti-diabetic medications for controlling sugars. Had no such major problems due to diabetes but suffered from Hair Loss, Fatty Liver Grade 1. My waist size consistently increased from 34 to 38, the same happened with my weight.
During a routine morning walk in our society, a neighbor told me about Dr. Pramod Tripathi and how his brother really benefitted by going through the treatment regime.
Mr.Sudheesh Sudhakaran
A simple search on YouTube gave a lasting first impression - Dr. Tripathi has been successfully running this program for a long time under the organization - Freedom from Diabetes (FFD).
My first thought - what a name and what would life be like when real freedom is achieved? I first participated in a Discover Reversal Session of Dr. Pramod Tripathi and then joined HTP batch 63 starting from October 2020.
Here again - I was thoroughly impressed with Dr. Tripathi's patience - every question from every participant was answered by the doctor. When my question came up - I was reprimanded by the doctor publicly for being careless and irresponsible with my health. That was the best motivation to really put my 100% into the program.
Fortunately, COVID did not hamper my treatment as FFD's program was totally online. The medicines in reality did not help me much. I suffered from high sugar fluctuations even after taking medicines, felt lethargic. Janumet which was started initially was stopped due to an upset stomach.
Since I was irregular with medicines, my FFD treatment started without actually taking medicines. I followed all the instructions given by FFD doctors, diet experts, exercise experts, and others thoroughly and my sugar levels started stabilizing within 4 months.
Weight-wise too, I lost a good 13 kg by the end of my program. Feeling really good with the IRP treatment. Weighted nitric oxide dump exercise is my favorite along with super brain yoga. Intermittent fasting is being followed and eating as per 25% diet protocol with a morning smoothie.
I am happy to share that I cleared IGT on 10th February 2022.
Thank you, FFD for giving me medicine-free life back again!