Mr. Verma's Story of total fitness and Reversal.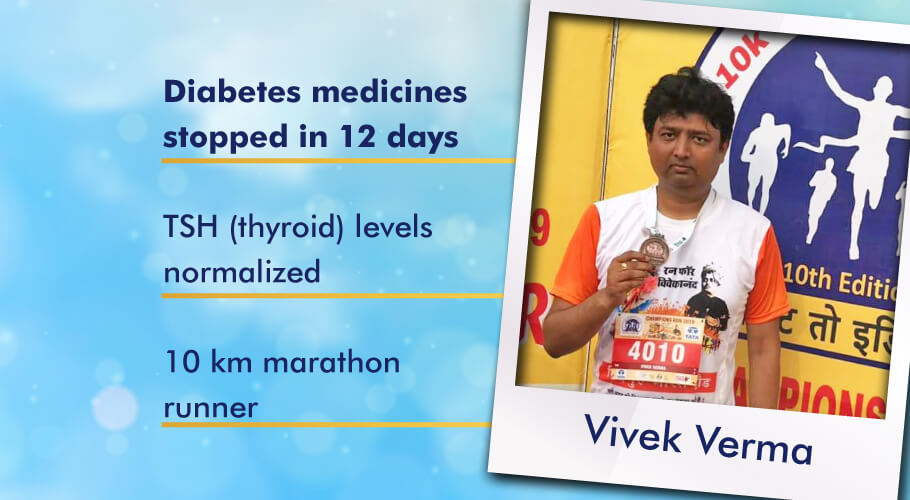 Mr. Verma's Story of total fitness and Reversal.

I am very proud to tell everybody that I have successfully run a 10 km marathon at Jawaharlal Nehru Stadium, New Delhi...
Hello, My name is Vivek Verma, 42 years old, a software engineer from Noida.
My diabetes was diagnosed in 2012 and was on Jalra M 50/500 twice a day at the time I joined FFD. I came to know about FFD through Youtube and enrolled my name in the FFD's Diabetes reversal Program i.e. online First Session of the Intensive Reversal Program that is a Webinar on 24 August.
I started following the FFD diet and exercise protocol as told in the webinar and later on also joined Intensive Reversal Program Batch 50 on 7 September. One thing I noticed throughout these years is that my sugars were pretty uncontrolled all the time.
There is an app called the FFD app that gives daily doctor support to all the patients in the comfort of their home and you do not need to meet the doctor in person.
This facility has made the whole intricate process of reversal much much efficient, easier, and faster. Due to this app, it was possible for me to get the best treatment at home.
After joining FFD my diabetes medicines stopped within 12 days. Sugars remaining in normal range all the time was something which was completely unbelievable for me. It was like a dream come true. I am free from all diabetes medicines now.
I would especially like to thank Dr. Smita with whom I was having consultations after joining the intensive batch. By following the FFD diet and exercises under her guidance, my medicines for diabetes as well as hypothyroidism were stopped.
Also, Dr. Malhar's fitness guidance has made me so fit that I could successfully run a 10 km marathon recently. Thanks to Diabetes Specialist Dr.pramod Tripathi, Dr. Malhar, my mentor Dattatray Dere, the FFD dieticians, and the whole FFD team working behind the scene.
I am feeling more energetic now.