Mrs. Kamble's dramatic story of complete fitness.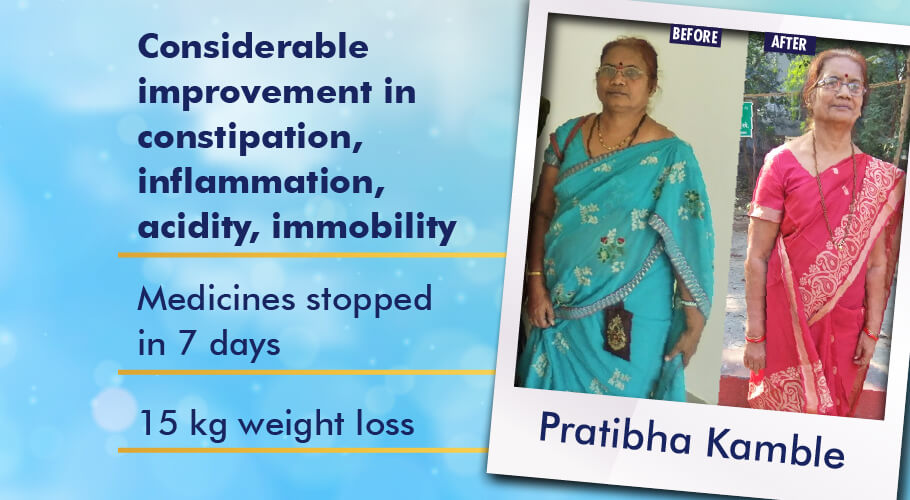 How 65 years old Mrs. Kamble reversed her Diabetes
Mrs. Pratibha Kamble from Pune, 65 years old, a retired D. Ed. College Principal.
I had diabetes for 15 years. As time went by, my diabetes medicines also increased. There was a rise in my weight, knee pain, constipation, and all possible ailments that could accompany diabetes.
I was in such a bad state that even a little bit of speaking and walking would make me feel tired. Many times a deadly thought of losing life would also cross my mind.
One fine day, I came to know about FFD and immediately joined batch number 37. Within 7 days itself, all my medicines were stopped and I had lost 4 kg also.
Till now, I have lost 15 kg of my weight and my blood circulation is much better. All the inflammation has resolved.
All my problems like constipation, weight gain, etc are okay now. One more thing that I would like to add is that initially, I had a lot of wrinkles on my body.
Surprisingly, with the FFD way of diabetes treatment they have also reduced to such an extent that I have started looking much younger.
Dr. Pramod Tripathi sir is like a God to me. He has given me a new life... diabetes-free life... a life free of all other ailments also.
I can comfortably walk 2 km at present and now my aim should be to run 5 km as told by Dr. Tripathi sir.
To know more about FFD Program: Contact: 7776077760 or follow this link

Listen to the complete reversal story @ https://soundcloud.com/dr-pramod-tripathi/pratibha-kamble