Pawan Kumar Pandey : An ex-serviceman's success story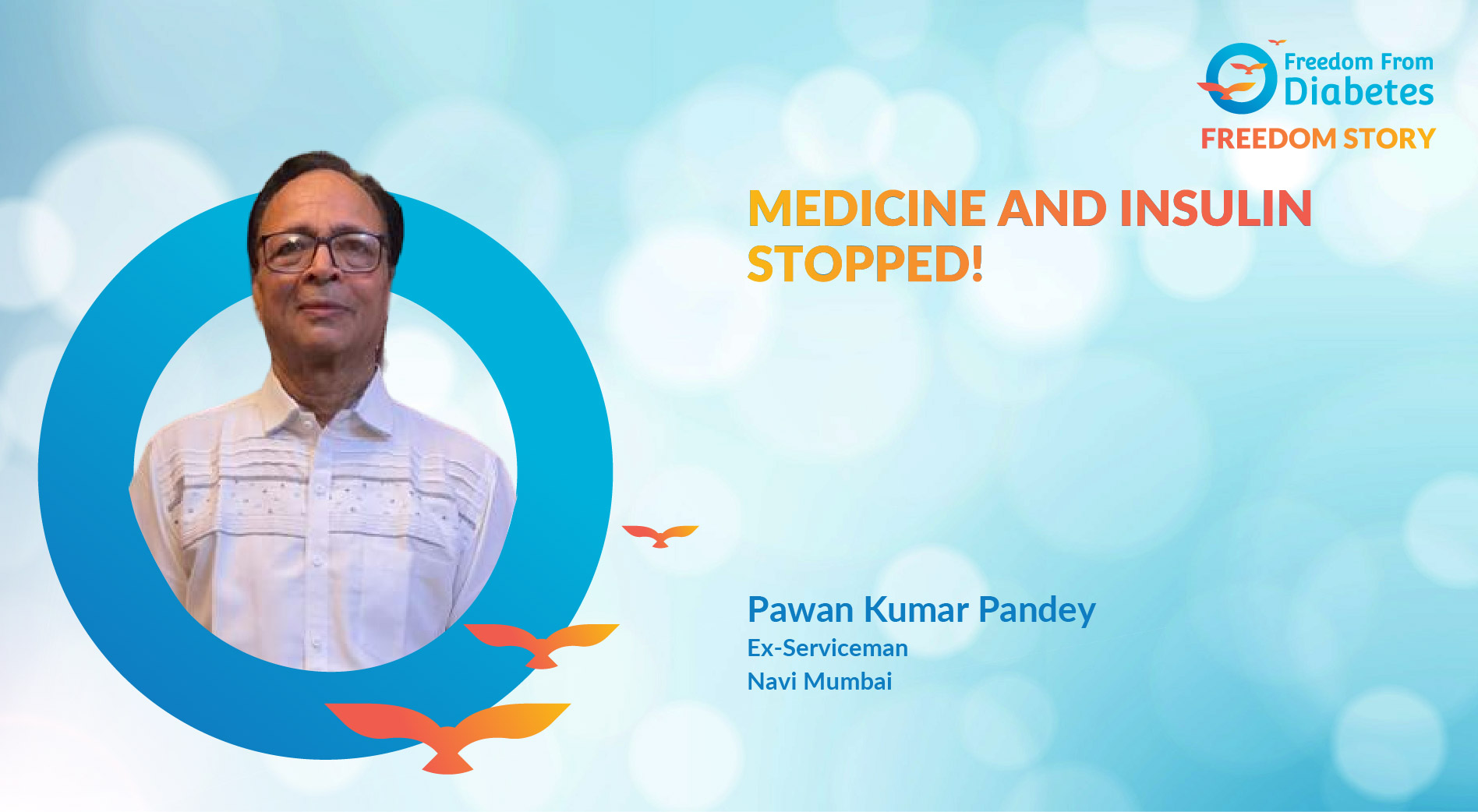 Medicine and insulin stopped!
Name- Mr. Pawan Kumar Pandey
Age- 62 Years Young
Profession- Ex-Serviceman
Place - Navi Mumbai


Hello all,
I'm Pawan Kumar Pandey, from Navi Mumbai. I was in the Indian Navy for 18 yrs and then on in the Merchant Navy for 23.
Why did I join FFD?


I always resisted taking medicines and somewhere deep down wished to be free from them.
How was my diabetes diagnosed?


I was absolutely okay till I was in the Indian Navy.
Sometime in 2002 soon after joining the Merchant Navy, I started having fluctuating sugar levels and was started on a small dose of medicine.
For around 20 years, while in active service I was looked after well by my Diabetologist. Post-retirement, as the activities reduced, sugars rose. It came as a shock when I was told to start insulin.
FFD introduction


It was my daughter through whom I came to know about Dr. Pramod Tripathi and the FFD program.


Mr. Pawan Kumar Pandey
FFD journey


I first watched the webinar of Dr. Pramod Tripathi and then joined the FFD diabetes reversal program in HTP batch 76.
"The whole concept of daily monitoring the sugar level journey was amazing for me." As I started following the protocols, my medicines were steadily reduced. By the end of April, all 5 tablets were stopped.
Weight loss has been incredible. From 86-87 kg, I reduced to 67 kg and now I am at 61-62 kg. A total of 16 odd kgs.
"The reduction in waist size has been unbelievable, at 10 inches."
Impression


"It is a great feeling to become free of diabetic medicines." I found the FFD team to be very caring.


Key takeaways
Medicine freedom
16 kg weight loss with 10 inches around the waist!