Rajeev Prasad: 3 years of medicine stopped in one month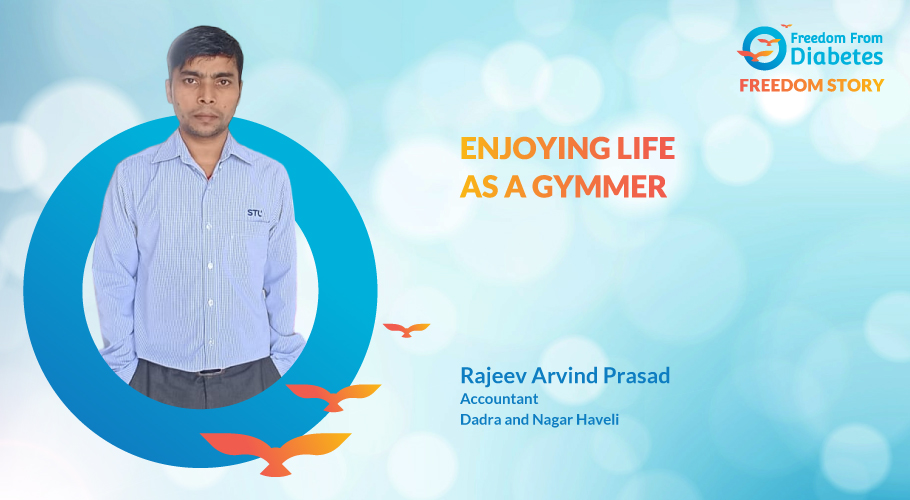 Enjoying life as a gymmer
Name- Mr.

Rajeev

Arvind

Prasad

Age- 29 Years Young
Profession- Accountant
Place - Dadra and Nagar Haveli
Hi

I am Rajeev Arvind Prasad an accountant from Dadra and Nagar Haveli.
Why did I join FFD?

Rising sugar levels were very stressful and disturbing.
Diabetes story


A medical check-up for excess thirst and excess urination confirmed I was a diabetic. Since there is no family history, I was completely unaware of this condition.
How did FFD happen?

The COVID time was stressful for me too like others which led to rising sugar levels. An extensive internet search landed me on the FFD page and I still feel fortunate about it.
The webinar by Dr. Pramod Tripathi was fabulous following which I immediately joined FFD diabetes reversal program HTP.

Mr. Rajeev Arvind Prasad
Reversal journey

I was only on one tablet for a long time but when the medicine dosage began increasing, I felt the need to do something. Luckily, I found FFD.

My diabetes medicine stopped within one month of joining HTP. Weight loss has been remarkable. I have lost 10 kg so far.

On the exercise front, I have chosen an athletic identity of a gymmer and go to the gym 5 days a week regularly.

Key quotes
"I am very happy being free of medicine."
Key takeaways
Medicine stopped
Weight loss 10 kg
Enjoying the identity of a "Gymmer"