Reversing Diabetes True Stories of Mr. Murali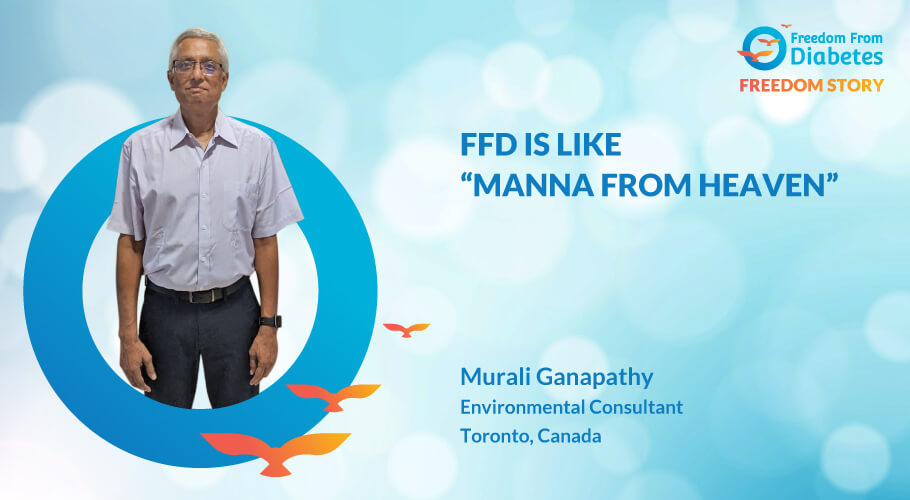 Meeting FFD was a pleasant accident!
Name- Mr.Murali Ganapathy
Age- 61 years
Profession- Environmental Consultant
Place -Toronto, Canada
'Accident' is mostly an unfortunate incident. But sometimes it can be a good one, have a pleasant outcome.
I am from a chemical engineering background and have been a chemical factory owner. But for the most part of my life, have worked as an environmental consultant. I currently consult for International Financial Institutions like International Finance Corporation, the World Bank, and others.
Both my parents are diabetic. My diabetes was discovered in 1996 September - due to the high frequency of urination, extreme thirst, and lack of energy. Poor lifestyle and eating habits would have contributed to my insulin resistance.
Like with most diabetics, my medicines kept increasing. Later, was started on insulin along with medicines for hypertension, cholesterol, and acidity.
Medicine status before joining FFD can be put as -
• Humalog Lispro 15 units X 3 times in a day with food;
• 40 units of Lantus at sleep time
• Total insulin = 80 units/ day
• Jardiance 25 mg = 1 per day
• Ozempic - 0.25 mg semaglutide once weekly
• Cardace (Ramipiril) – 2 mg – 1 per day- for BP
• Atorvastatin – 10 mg – 1 per day - for Cholesterol
• Neksium(Esomeprazole)– 40 mg – 1 per day - for acidity
• Isabgol – every night for the past 25 years. - laxative
Now, here comes the interesting part. I came to know about FFD by accident! I was just searching on the web (I browse the web regularly to look for advances in diabetes research– looking for a miracle cure for diabetes).
I attended the introductory Diabetes Reversal program on 15/16 Aug and started the journey with FFD on 19 Aug 2020.
By 27 Aug 2020, my insulin and medications had stopped. I took my last shot of Ozempic on 3 Sep 2020. My App doctor stopped all medications even before I was fully tested, and medical consultation happened with the Consulting Doctor.
It was exhilarating! I had never once believed that I could be without medications or insulin for diabetes.
Hypertension was an outcome of my high-stress job and poor lifestyle. Same with cholesterol. I was taking medications for over 20 years. All stopped on 27 Aug 2020.
I was preparing myself to face an old age full of ailments and poor quality of life and I was scared.
FFD has been a real find –real "Manna From Heaven". Now, I am looking forward to growing old like a "Tagda Ghoda".