Sachin Rajaram Patil: An inspiring reversal story of a software engineer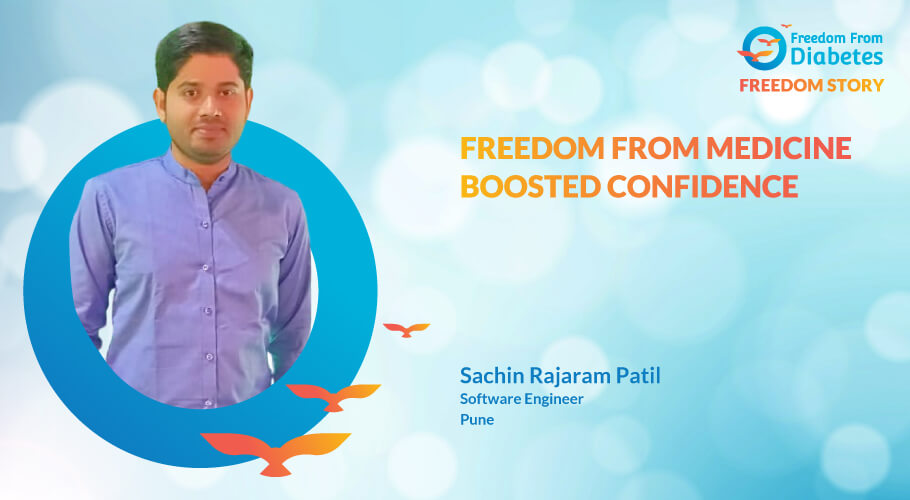 Freedom from medicine boosted confidence
Name- Mr. Sachin Rajaram Patil
Age- 33 Years Young
Profession- Software Engineer
Place - Pune, Maharashtra
I joined FFD because I felt they have a systematic and scientific process to reverse diabetes.
Introduction


Hi
I am Sachin Rajaram Patil, a 33 years young Software engineer from Pune.
I have a strong family history of diabetes with my grandmother and both parents having it. But I had never thought I would get it so early.
How did I get to know about my diabetes?


A few months ago, I noticed sudden weight loss. Also was having symptoms of frequent urination, thirst, headache, etc.
Frequent hunger pangs were forcing me to eat more. I went ahead and got myself tested. That's when I got to know.
How did I come to know about FFD?


From the very first day, I decided to reverse my diabetes. I was aware that reversal is an option but I also knew I needed people and a system to follow. Just dieting and exercising on my own would not reverse it.
I was acutely aware of long-term diabetic complications, so started searching on Google for options. I explored deeper and saw reviews and modalities.
Luckily, I had watched Dr. Pramod Tripathi on Z24 Taas 3-4 years before but didn't know the end-to-end process at that time. This time I quickly enrolled for the 2-hour webinar.
Mr. Sachin Rajaram Patil
FFD journey


The 2-hour diabetes reversal session was amazing as Dr. Tripathi had logical answers to all queries that I had in my mind. Plus he showed various examples of successful participants which were great.
Without a single doubt, I joined FFD diabetes reversal program HTP and began my reversal journey.
The medicines that I was taking for diabetes stopped within 8 days of joining HTP. I had already lost weight due to diabetes from 83 to 72 kg before joining.
The stoppage of medicine and improvement in health gave me confidence that I can reverse my diabetes in the long term.
I also learned how to take care of my health with a proper balance of diet, exercise, and inner peace.
Impression


I am happy that I was aware and met FFD on time. I feel that I will not be living with diabetes anymore.
Key takeaways
Freedom from medicine
Confident about health