Shanthi Umapathy: A weight loss story from Bangalore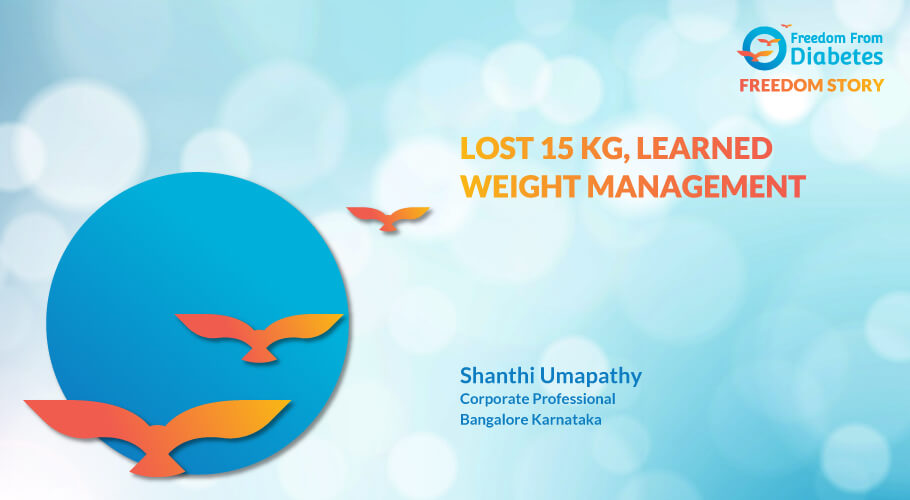 Lost 15 kg, learned weight management
Name-

Shanthi

Umapathy
Age- 60 Years Young
Profession- Corporate Professional

Place - Bangalore Karnataka
The motive behind joining FFD
I am non-diabetic but came to know FFD is expertise in weight loss too.
Introduction
Hello All
I am Shanthi Umapathy, a 60 years old lady from Bangalore.
Weight gain story
I am a lady of medium height 154 cm but my weight was pretty high 80 kg. This put me in an obese BMI category.
A heavy weight was causing problems like back pain, hypertension, skin, leg & foot problems (varicose veins/sciatica/unhealing wound/gangrene), and knee pain.
I tried Anjali Mukerjee's diet. They gave me some powder to consume. But this did not help me much, I lost only 3-4 kg.
How did I come to know about FFD?
One of my runner friends told me about FFD. This rose my interest a lot so I did my research and found that many have benefitted not only in terms of diabetes but weight loss, hypertension, cholesterol issues, etc.
Weight loss journey with FFD
I attended the online introductory session of Dr. Pramod Tripathi named DRS first.
There it got even more clear that with FFD, thousands have achieved 10-20 + kg weight loss successfully. To put the statistics in an interesting way, they have helped people shed 3 lakh+ kilogram weight in total.
Soon I joined FFD diabetes reversal program HTP for weight loss.
The program began by explaining the healthy weight loss plan. By following it, I realized it is the best weight loss plan I have come across yet. I have succeeded in reaching 64 kg which is great for me. I am confident that I will reach my target weight of 60 kg soon.
Impression
There has been a great change in my life with FFD. I have joined the gym and enjoying it.
FFD takes care of the mind, body, soul, and everything. When people around me appreciate my 15 kg weight loss I tell them it is due to FFD. I also explained to them that FFD is not only limited to diabetes reversal but also helps reverse lifestyle disorders.
I have learned how to reduce, control, and maintain my weight now and am so very much relieved. I have a few more months to go, will get more from the program.
Had been to Dubai as well during this period. Even with traveling, I was able to manage my weight.
Thank you very much, FFD.
Takeaways
15 kg weight loss
Learned weight management