Venugopal Kotipalli: A story of total transformation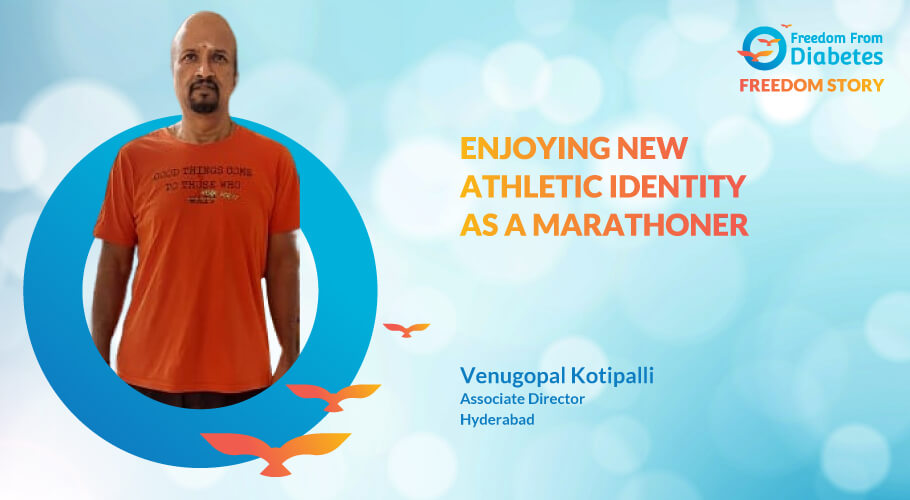 Enjoying new athletic identity as a Marathoner
Name- Mr.

Venugopal

Kotipalli

Age- 50 Years Young
Profession- Associate Director

Place - Hyderabad

Hi All

I am Venugopal Kotipalli, from Hyderabad, an Associate Director at Cognizant technology services. I have been in the IT industry for 27 years and managing a portfolio of 200+ IT professionals.
What made me join FFD?

My main concern was the long-term side effects of medicines and associated co-morbidities. Post confirmation about the effectiveness of the program from my doctor friends, I joined FFD.
Diabetes story

My mother does suffer from diabetes. I was diagnosed during a periodic health check done in 2016.
Introduction to FFD

I came across FFD while I was searching the internet for a cure for this lifestyle disorder. I was hell-bent on finding a cure for it.

Mr. Venugopal Kotipalli
Reversal story


I had been diabetic for six years before joining the FFD diabetes reversal program (HTP). I believe, the primary reason for me to be a diabetic was work stress and untimely eating habits. The disease had given rise to many other complications like BP, cholesterol, uric acid, iron deficiency, Vit D deficiency, and body pain to top it all.

I lost overall 20+ kg since I started on the program and moved from Large to Small size. Diabetic medication stopped on the second day I started this program and it has been a total of 15 months so far that I have been off medication.

In addition to the diabetes medication, my medicines for cholesterol, uric acid, iron deficiency, Vit D deficiency, and BP have been stopped. I cleared my GTT on 21st July 2022 with readings of 72 and 76 for 1st hour and 2nd hour respectively

On the exercise front, I recently completed my first 10K run during the NMDC Hyderabad Marathon on 28th August 2022 in 1 hour and 6 mins.

Key quotes
"My reversal journey with FFD is nothing less than a revelation"

"As part of the program, some things have become a habit for life"

"I am more contained with my approach and response to any situation in life"

Key takeaways
Medicine stopped
Weight loss of 20+ kg
Ran a 10K marathon