Vinay Hebballi: FFD taught me what is Good Health!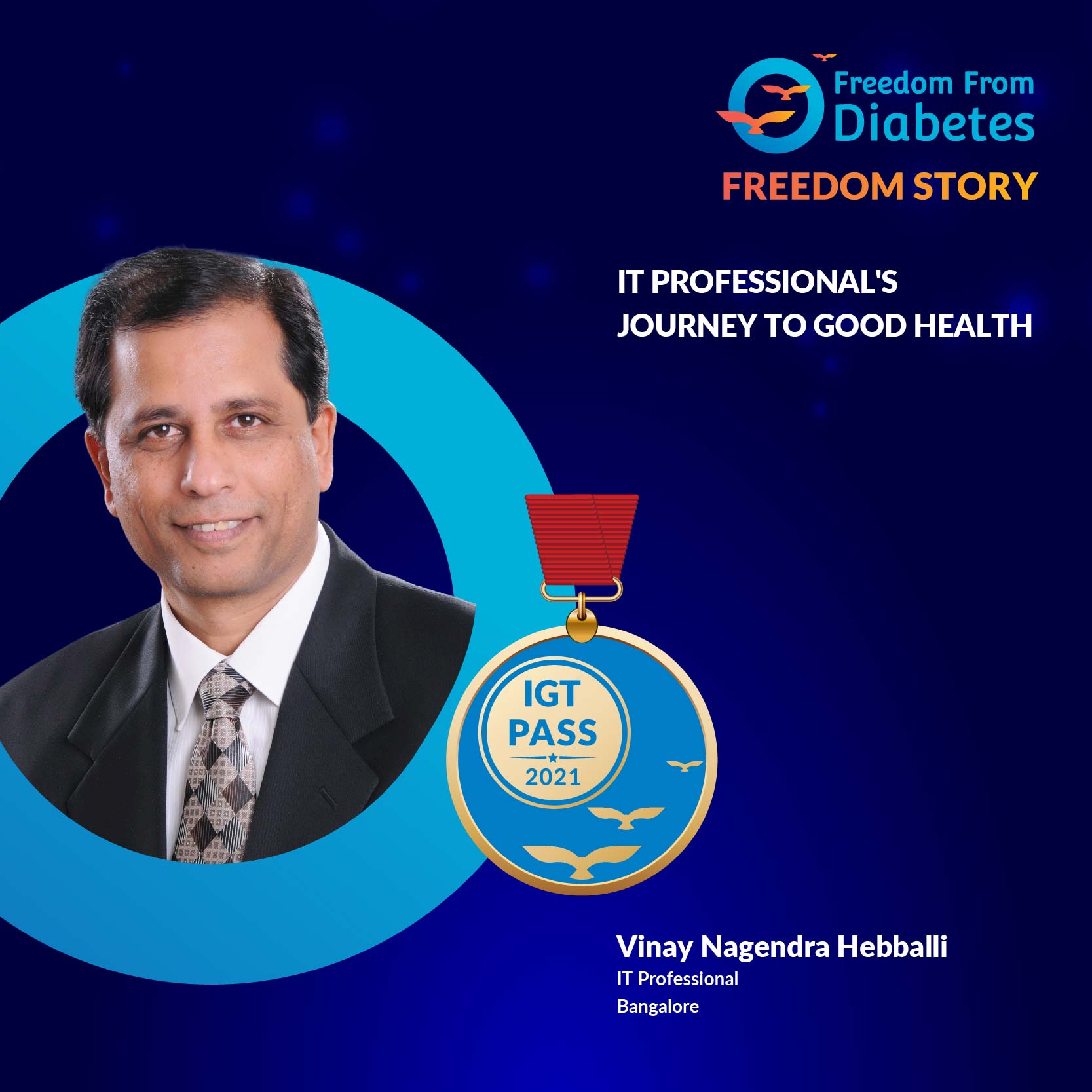 Name- Mr. Vinay Nagendra Hebballi
Age- 55 years
Profession- IT Professional
Place - Bangalore
It is always good to learn from the experts. Thank god I met FFD and learned about what real health means.

I am Vinay Hebbali, a 53-year-old IT Professional from the Semiconductor Industry. After 24 years of service, went to be an Entrepreneur, built a team of 700 engineers, served for 2 years, and exited. Now, again part of a new startup.

I noticed that in 2018, I had started suffering from a strange symptom of excess urination. On a suspicion about my health, got it checked and ended with the sad result - Diabetes. Sugars were found to be in a pretty high range.

What could have been the cause for my contracting diabetes? After overthinking, I could figure out 2 reasons - one was a family history of diabetes. My father was a diabetic. And the second could have been my sweet tooth.

I had no such major problems due to diabetes. Was on just tablets like Trivoglitor 2 mg - 1 - 0 - 1, but definitely wanted to get rid of it if at all there was any way out.

At that time, the Keto diet was the talk of the town that caught my attention. I started with Keto, then encountered Dr. Pramod on Youtube and latched on, decided to go ahead with FFD.
Mr. Vinay Nagendra Hebballi
I first attended the Discover Reversal Session of Dr. Pramod Tripathi which was a full 2-hour program giving information about the causes of diabetes and how diabetes reversal happens. I soon enrolled in the immediate full-year FFD program.

FFD has been like a boon to me. My diabetes medicines stopped in just 3-4 days of joining the program. It has been an amazing discovery on the details of our body, significant learning on why, how, what, and how much, a lot of these details have helped me to become a better individual and of course learned the art of control.
Reduction of weight was an internal motivation as I am a vivid outdoor person and ensuring appropriate weight is important for my physical activities too.

I have cleared my IGT on 4th November 2021 and hope to clear GTT soon. The whole concept of clearing GTT is actually overwhelming. This aim gives me a good drive each day.

When FFD put up the idea of choosing an Athletic Identity, I took up being a runner. Now, I do 10 km thrice a week and rest 2 days working out.

I feel great, knowledgeable, well-informed, exercising control on consumption, and sharing the experience with other diabetics so that we can spread the information. My regular routine involves a 3:2:1 exercise regimen, though yoga is not happening. Diet is also well balanced, and the importance of fasting is well appreciated and practiced once a month at least.

Thank you, FFD for everything.