Which millets are good for diabetes?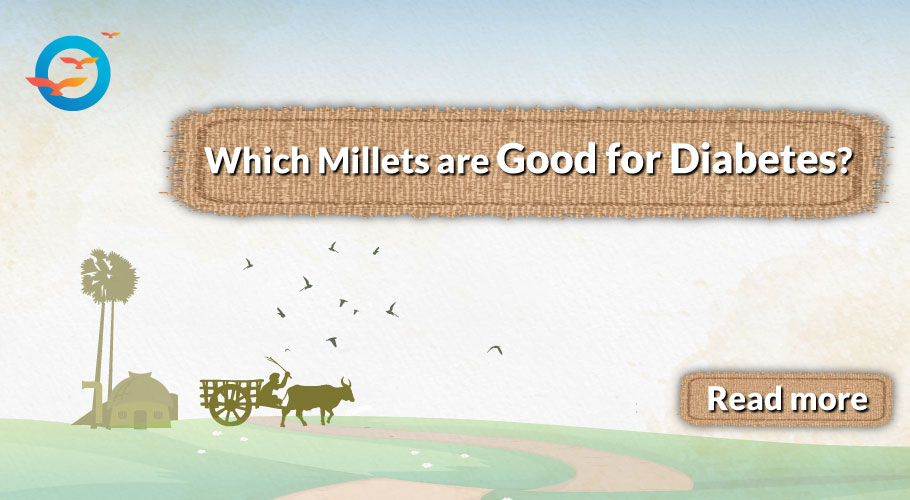 Culinary exploration has unearthed a hidden treasure, long overlooked and underestimated. It resides in the humble grains of millets that await awakening taste buds, nurturing bodies, and sparking a culinary revolution.
Millets, an ancient cereal grain, has gained popularity for its high nutritional content and its potential to prevent diseases.
Millets are a whole grain. It's considered a "good" carb and easily digestible. And since it's also gluten-free, it's a great alternative for people living with celiac disease or gluten sensitivity. Additionally, millet has a high nutritional value.
Nutritional content


A cup of millets has about:
6.11 grams of protein
2.26 grams of fiber
76.6 milligrams of magnesium
108 milligrams of potassium
Based on its grain size and area under production it is categorized into 2 types, i.e. Major and Minor Millets. Under major millets, we have Sorghum, Pearl Millet and Finger Millet and under minor millets, we have Foxtail Millet, Little Millet, Barnyard Millet, Proso Millet, Kodo Millet, and Browntop Millet.
Millets for diabetes


Although anyone can reap the nutritional benefits of eating millets, it's been shown to be especially beneficial for diabetes management, making it one of the better whole grains for managing blood sugar.
Millets are a good choice for diabetes due to its high fiber content. Fiber helps slow digestion. As a result, sugar enters the bloodstream slowly, lessening the risk of a blood sugar spike.
Millets are lower on the glycemic index (GI) than many other grains. That means it raises your blood sugar slowly and gradually instead of in quick spikes. High-fiber, low-GI foods keep blood sugar steady, lower cholesterol, and help you lose weight. All of these things are helpful for people with diabetes.
Keep in mind, though, that the GI value of millet varies depending on the type. For this reason, some types of millet are better than others if you have diabetes.


Low GI (< 55)

Moderate GI (55-70)

Foxtail millet (54.5)
Little millet (64.2)
Finger millet (61.1)
Pearl millets (56.6)
Kodo millet (64.5)
Jowar (70)
1. Foxtail Millet (Kangni\ Kakum):




A study concluded that people with type 2 diabetes who consumed a special diet enriched with foxtail millet had lower levels of blood sugar, cholesterol, and triglycerides. Another study found blood sugar levels dropped after eating foxtail millet instead of rice.
2. Kodo and Barnyard Millet (Sanwa):




A recent study indicated the potential benefits of barnyard millet in the diet therapy of diabetics. It exerted positive impact on blood glucose and serum lipid levels in diabetic and non-diabetic volunteers after the dietary intervention study of 28 days.


3. Finger Millet (Ragi\ Nachni):




The polyphenols of finger millets were found to be major antidiabetic and antioxidant components. Finger millet based diets have shown lower glycemic response due to high fiber content and also alpha-amylase inhibition properties which are known to reduce starch digestibility and absorption.
Finger millets are medium GI. As controlling of sugars with a particular grain purely depends on one's body type, one can try ragi and observe the sugars, as in the majority of cases we observed, had shown higher sugars.
4. Pearl Millet (Bajra):




Pearl millet are known to increase insulin sensitivity and lower the level of triglycerides. It is also very effective for controlling diabetes because of its high fiber content. It gets digested slowly and releases glucose into the blood at a slower rate as compared to other foods. This effectively helps in maintaining the blood sugar level constant in diabetes patients for a long period of time.
5. Little and sorghum millet (Jowar):

Little millet has medium GI. It gets digested slowly and releases glucose into the blood at a slower rate as compared to other foods. This effectively helps in maintaining the blood sugar level constant in diabetes patients for a long period of time.
Summary:

Millets are beneficial in managing and controlling diabetes. We can also use millets for non-diabetic people as a preventive approach and millets also help in weight loss, prevent cardiovascular disorders, control blood pressure etc. So, selecting the appropriate millets is very important in managing diabetes. Millets should be included in the regular diet for better results.
Freedom from Diabetes is thrilled to announce that it will be celebrating the entire month of June as Millets Awareness Month. As a strong advocate for healthy eating, FFD aims to raise awareness about the incredible nutritional benefits and ecological significance of millets. Furthermore, FFD is proud to pledge its support to the Indian Government in its mission to promote millets as a staple food and enhance food security across the nation.
Come, join us to create a healthier, more sustainable future for all.
freedomfromdiabetes.org/millet-awareness-month
Reference:


https://milletadvisor.com/millets-for-diabetes/
https://www.webmd.com/diabetes/millet-diabetes-blood-sugar#:~:text=In%20one%20study%2C%20people%20with,sugar%20levels%20after%20the%20meal.
https://www.healthline.com/health/diabetes/millet-for-diabetes#healthy-eating
Recent Research in Science and Technology: "Efficacy of value added foxtail millet therapeutic food in the management of diabetes and dyslipidamea in type 2 diabetic patients."
The British Journal of Nutrition: "Amelioration of hyperglycaemia and its associated complications by finger millet (Eleusene coracana L.) seed coat matter in streptozotocin-induced diabetic rats."
The Indian Journal of Medical Research: "Postprandial glycaemic response of foxtail millet dosa in comparison to a rice dosa in patients with type 2 diabetes."
Patil K, et al. (2015). Glycemic index and quality evaluation of little millet (Panicum miliare) flakes with enhanced shelf life. DOI: 10.1007/s13197-014-1663-5
Urooj, A., Rupashri, K., Puttraraj, S. (2006). Glycaemic responses to finger millet-based Indian preparations in non-insulin-dependent diabetic and healthy subjects. Journal of Food science and Technology, 43: 620-5.
Anitha, S., Kane-Potaka, J., Tsusaka, T.W., Botha, R., Rajendran, A., Givens, D.I., Parasannanavar, D.J., Subramaniam, K., Prasad, K.D.V., Vetriventhan, M., & Bhandari, R.K. (2021) A systematic review and meta-analysis of the potential of millets for managing and reducing the risk of developing diabetes mellitus. Frontiers in Nutrition, 8: 687428.
Atkinson, F.S., Brand-Miller, J.C., Foster-Powell, K., Buyken, A.E., Goletzke, J. (2021) International tables of glycaemic index and glycaemic load values 2021. The American Journal of Clinical Nutrition, 114(5): 1625-1632.
Narayanan, J., Sanjeevi, V., Rohini, U., Trueman, P., & Viswanathan, V. (2016) Postprandial glycaemic response of foxtail millet dosa in comparison to a rice dosa in patients with type 2 diabetes. Indian Journal of Medical Research, 144(5): 712-717.
Díaz-Rizzolo, D., Acar-Denizli, N., Kostov, B., Roura, E., Sisó-Almirall, A., Delicado, P., &Gomis, R. (2022) Glycaemia fluctuations improvement in old-age prediabetic subjects consuming a quinoa-based diet: a pilot study. Nutrients, 14(11): 2331.