37 years of Diabetes Reverse & Stopped 48 Daily insulin Units in Just 2 month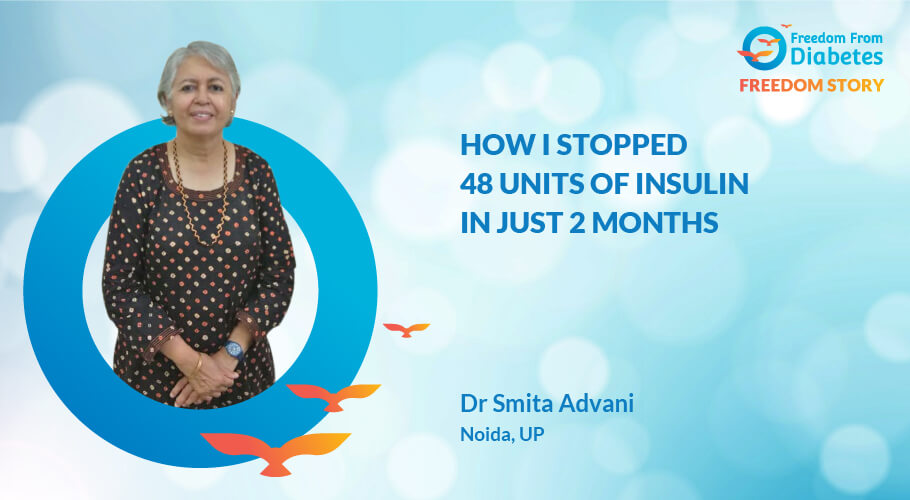 The real-life story of Dr. Smita: How she Reversed her Diabetes in less than 2 month
Name- Dr. Smita Advani
Profession- Doctor
Place - Noida, UP
I have a family history of diabetes, as my grandparents had it. But, I never imagined I would fall victim to it at such an early age. I was just 26 years old and on my first pregnancy when I was diagnosed with gestational diabetes. I managed it with oral medication for some time but inevitably ended up on insulin. This continued for another 17 years, making a total of 37+ years with the disease.
In addition to my physical health, diabetes took a toll on my psyche as well. To avoid being subjected to over-hospitable hosts who force you to eat foods that go against one's diet restrictions I became quite reclusive. Fear of hypoglycemia kept me at home. By this time I was already on medication for Cholesterol and BP problems. Then, in 2018 I began suffering from retinal problems, as well.
Despite all this, I continued my practice as a General Practitioner (GP) in a veterans polyclinic. Ironically, a patient actually told me about "Freedom from Diabetes" and their Intensive Reversal Program (IRP). Till then, I had no idea that an organization like FFD existed, or that diabetes could be ever reversed. Just the thought that something like this could happen, gave me hope. I began researching FFD and Dr. Pramod Tripathi and found a lot of information on the internet.
On 8th September 2020, during the height of the Coronavirus lockdown, I attended the online first session of the IRP. It was an eye-opener. As a doctor, I was able to understand and verify the science behind FFD's program. I was completely convinced that Dr. Tripathi's approach towards reversal was correct.
I immediately stopped dairy products, got my tests done, enrolled in Intensive Batch 62, and thus began my journey with FFD. Whatever remaining doubts I had were addressed by FFD doctors. I put my trust in the program and followed all the protocols. Then two months later the unimaginable happened. My 17 years of insulin were completely stopped. I had won my Freedom from insulin. It Was Unbelievable!
It was not all smooth sailing, of course. But, whatever issues I faced were resolved quickly. For instance, at one point, my weight loss plateaued. But the diet experts at FFD staff got it moving again with intermittent fasting and juice feasting.
I went from 75 kg to 63 kg. I'm now eagerly waiting to reach my target weight. My Hba1c is 6.5, lipids are down to normal, BP is also normal at 130/80. And my BP and Cholesterol medicine dosages, which I have been taking since 1992, have been substantially reduced.
In recognition of my progress, I was nominated in the "Miraculous Freedom Story- Female" category at FFD's Muktoutsav 2020. It was a big honor. I feel healthier, happier, and energized. My transformation is so obvious, three of my friends/relatives also signed up for the program. IRP is indeed transformational.
FFD's ONLINE FIRST SESSION is the starting point of your road to "Freedom from Diabetes". It gives you an overview about how Diabetes Reversal actually happens. Join the online session from the comfort of your home
Thank you,
Team FFD and Dr. Pramod Tripathi.