A co-morbidity and type 2 diabetes reversal story from Bangalore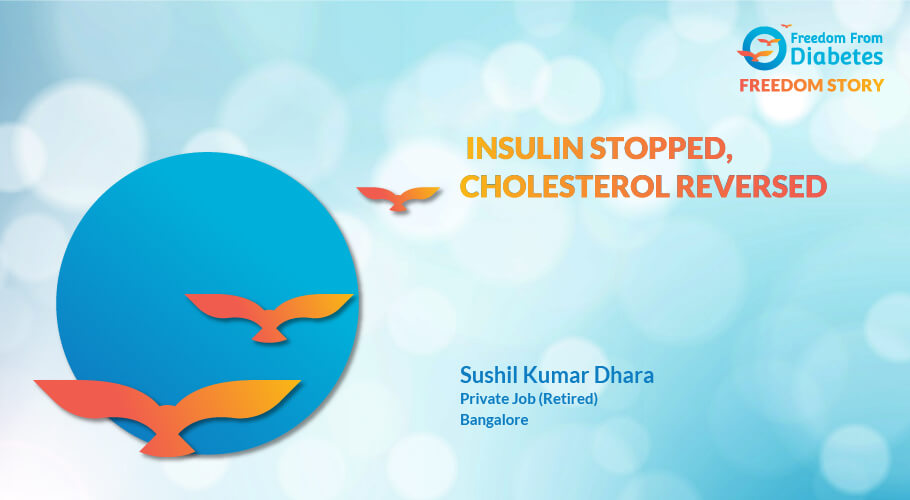 Insulin stopped, cholesterol reversed
Name- Mr. Sushil Kumar Dhara
Age- 59 Years Young
Profession- Private Job (Retired)
Place - Bangalore


Hello all,

I'm Sushil Kumar Dhara from Bangalore.
My diabetes story

My company used to conduct yearly medical checkups of their employees. One such checkup in 2004 revealed I had diabetes. Interestingly, there is no family history and this came as a surprise to me.
I did not face any major problems initially but last year I began facing some sensation issues in my legs which were due to sugar fluctuations according to my neurologist.
How did I learn about FFD?

FFD was introduced to me via YouTube.
What made me choose FFD?

My medicines were increasing day by day. I was also feeling weak and lethargic. At one point in time, the doctor suggested I start with insulin which I continued for 1-2 years.
I wished I would be able to stop insulin, it would be better. I saw hope in FFD. The introductory webinar by Dr. Pramod Tripathi added to my confidence and I enrolled in Freedom from Diabetes type 2 diabetes reversal program - HTP immediately.
Reversal story

When I joined FFD I was on 12 units of insulin. The 4 FFD protocols magically started working on my body and my insulin stopped within one month. What a big day it was for me.

My diabetes medicines have reduced considerably and my life is much better now. My HbA1c has improved from 8.5 to 6.5 which is great. My cholesterol medicines which I was taking since 2019 have also stopped now.
My weight loss of 5-6 kg has also helped me a lot. I feel physically and mentally fit now. There were a few problems adjusting to the diet initially but now I am very much comfortable with it. I exercise for at least one hour daily and have a special inclination toward yoga.


Key quote
"FFD has truly changed my life. I am grateful to Dr. Pramod Tripathi for innovating such kind of treatment."


Key takeaways
Insulin stopped
Medicine reduced
Cholesterol reversed