A Homemaker's Inspiring Diabetes Reversal Success Story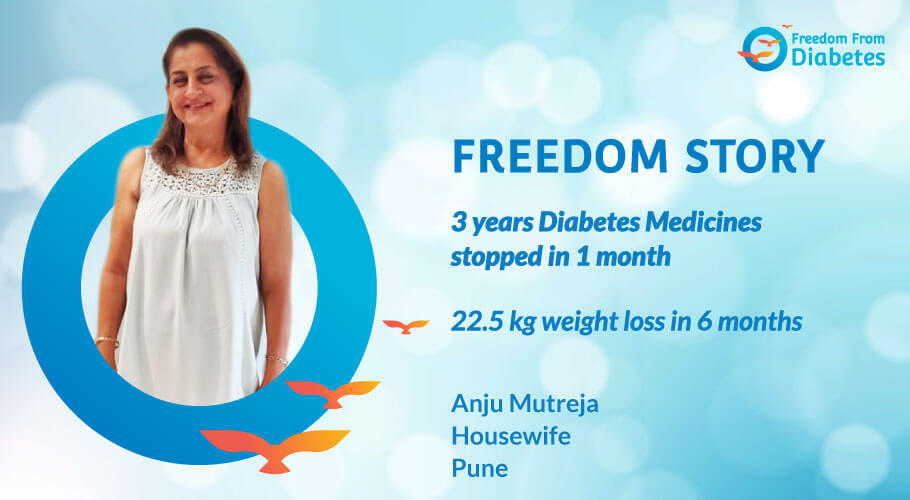 Debates Reversal Success story of Mrs. Anju
Name- Mrs. Anju Mutreja
Age- 55 years
Profession- Housewife
Place - Pune
"My journey has been from a person who felt lazy, tired, sleepy all the time to an energetic person doing all the housework in lockdown with good energy level" Hi, myself Mrs. Anju Mutreja, 55 years young housewife from Pune.
I was detected to have diabetes 3 years ago when I checked my blood sugar level due to excessive thirst and tiredness. I used to feel extremely tired and sleepy at that time. I also suffered from acidity, constipation, gases, anxiety, high cholesterol, hypertension, back pain.
I came to know about "Freedom from Diabetes" through my friend who is also a participant in the FFD's Diabetes Reversal program. She shared her experience and results with me and also encouraged me to go for it. I thought it was worth doing and I joined Intensive Batch 56 after attending the Online first session.
Following all that was taught at FFD strictly, I started noticing changes in myself. My diabetes medicines of 3 years stopped in just 1 month. In December my weight was 86 kg.
After attending the Diabetes Reversal Program i.e. online first session and just following few things I saw a remarkable drop in my weight and by the time I joined Intensive Reversal Program (IRP), my weight was 78.9 kg which soon came down to 63.5 kg meaning 15.4 kg weight loss in 3 months and 22.5 kg weight loss in 6 months time…simply amazing.
Now due to lockdown, I have to do all the daily chores myself right from cleaning, cooking, and others. Still, I can manage it comfortably. Now, I get up at 4.30 a.m, meditate, and then do all work during the day without going low in energy.
The stress release techniques have helped a lot.
I am extremely thankful to Diabetes specialist Dr. Pramod Tripathi sir and the FFD team for this great life.