Akkamahadevi Ithali: 6 years Diabetes Reversed in Just 5 days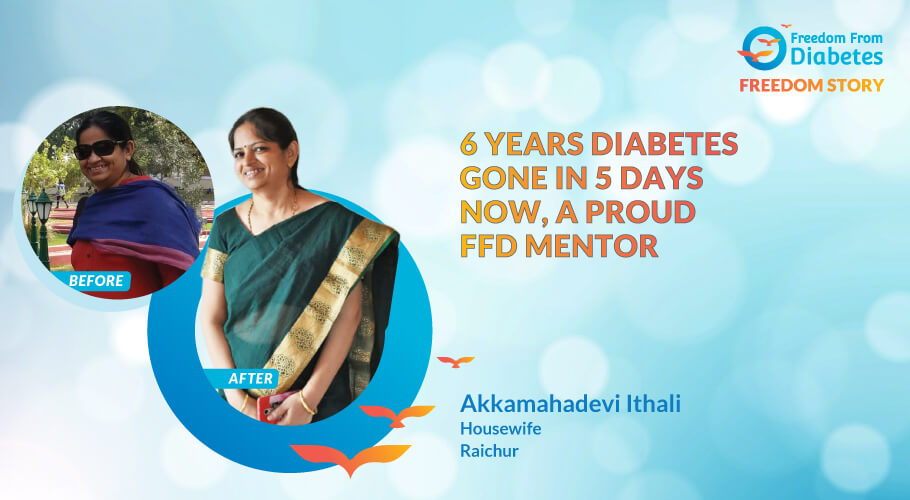 Name- Mrs. Akkamahadevi Ithali
Age- 45 years
Profession- Housewife
Place - Raichur, Karnataka
Somewhere around February 2014, I realized that doing household chores and daily activities was becoming difficult for me. I was constantly feeling giddy.
Around the same time, I was also suffering with frequent acidity and headaches. My test results indicated me to be diabetic with quite high sugar levels!
Though there is a family history of diabetes on my maternal side, I never thought I would get it and if at all, not at this early age of 37-38 years.
What could have been the cause? Stress could have been one of the causes - the stress of managing post-graduation studies along with family responsibilities.
Being basically sincere, I meticulously followed the general advice of my doctors on exercise and diet control but it didn't have any effect on my weight and no improvement in blood sugar levels.
My medicine dosage kept on increasing and medicines also kept on changing. This increased my stress level even more and as a result my BP increased to 160-170. This led to the addition of BP tablets to my medical regimen.
I heard Dr B M Hegde's speech on diabetes and learnt that it was possible to reverse diabetes. My mind said "why not try this ?".
I came to know about FFD activities on further search on the internet and embarked upon this health journey. Now, all that is history!
In 2014, my weight was 67 kg with HbA1C of 7. I joined FFD on 28th February 2020 and was free from medicines on 5th March 2020, just 5 days after joining FFD. VOW! 6 years of diabetes gone in 5 days!
I am happy to share my current health status of weight 55 kg, HbA1c 5.4, BP reading now 122/82 consistently. No acidity and no headache for the last 6 months. No cravings for morning Tea. No medicines for the last 6 months.
Mrs. Akkamahadevi Ithali
I am proud to list my achievements as -


✓ I can bend my body to perform Halasana.
✓ Could perform 68-hour water fasting.
✓ Can now fit myself in my 16 year old dress.
All I can say is follow the FFD protocol properly and the results will follow.
I lost my mother to Diabetes. Looking at her condition in her last days I was worried for myself. I had seen diabetes doing destruction. I was lucky to find a way out of this disease, Thanks to FFD.
I am happy to share that I could clear IGT twice (2020 and 2021) and am very hopeful of clearing GTT this year.
After attaining this good state of health, now I wish to complete a 5 km run, and achieve more flexibility in doing yoga. My lifetime goal will be to maintain this lifestyle.
In India, there is a rising number of patients who are suffering from Diabetes and FFD gave me an opportunity to become a mentor and help such people get rid of Diabetes.
Thank you Dr. Pramod Tripathi and the whole FFD fraternity.