Amazing diabetes reversal story of a 24-year-old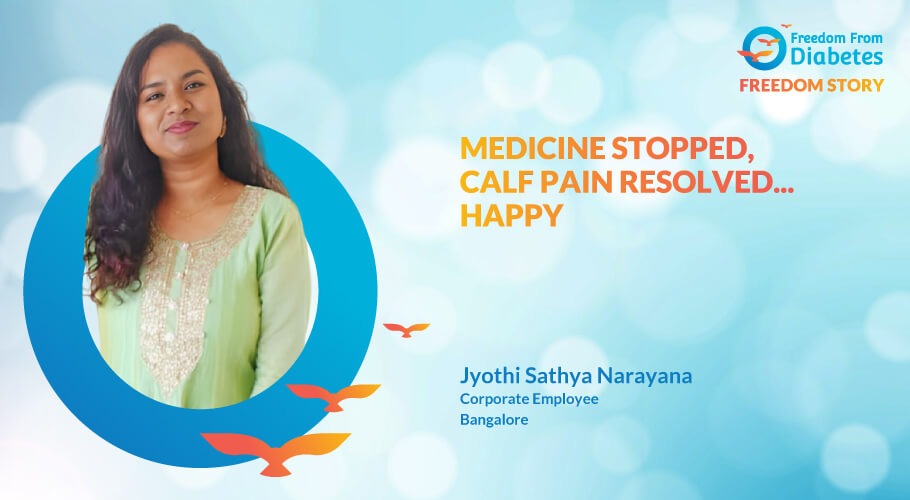 Medicine stopped, calf pain resolved... happy
Name- Ms.

Jyothi

Sathya

Narayana

Age- 24 Years Young
Profession- Corporate Employee
Place- Bangalore


Hi All,
I'm Jyothi Sathya Narayana from Bangalore working as a sales specialist in a Private Firm.
My diabetes story


There was some personal problem and stress which must have triggered diabetes and health issues in my case. I suffered from PCOD. Right eye vision issues made me see an eye doctor.
He could not diagnose my problem initially I was very young. Later on, he figured out that it is due to diabetes that I had got this fluid behind the retina of my eye.
When diagnosed my sugars were as high as 307. I was on the obese side as well. It was very depressing to be on tablets at this young age. I wanted to get rid of my situation and found some ways too but was not able to figure out which way to choose.
How did FFD happen?


FFD was introduced through my previous company manager.

What made me choose FFD?

I never liked being on medicines. With FFD, I saw a hope of going free of medicines. I enrolled in Freedom from Diabetes type 2 diabetes reversal program - HTP immediately.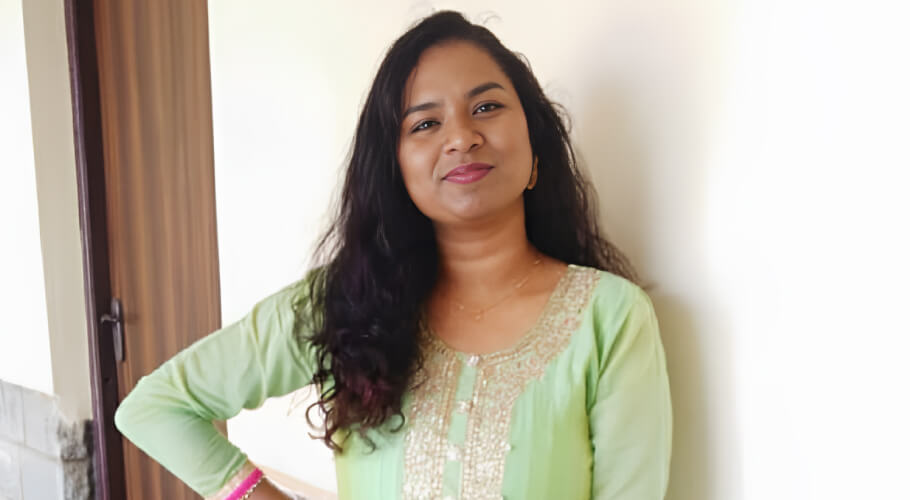 Ms. Jyothi Sathya Narayana
Reversal story


My diabetes medicines stopped within one month of the FFD program which was the best piece of news for me. My HbA1c which was 9.2 came down to a decent level of 5.7. My weight loss of 9 kg also has been great. There are fewer restrictions on food intake now.
I feel proud that I have become lean and this has added confidence in me.FFD truly helps one regain health in all spheres. The battery of tests recommended by FFD found out my liver was not performing well. This was corrected too. I am off my liver tablets as well. My periods have got regularized too.
The role of the inner transformation expert is outstanding. My assigned doctor was simply superb. I could share everything with her and she would advise me accordingly. I used to play badminton and basketball in my college days. Now, I have taken up running as my favorite form of exercise.
Calf pain story


One day I climbed 6-7 floors vigorously. Little did I know that it would cause harm to the calf. The pain was severe up to 8.5 on a scale of 1-10. I could not even get up from my bed the next morning.

FFD exercise expert played an important role here. She suggested me few exercises for it. Upon doing them my pain was relieved and I was fit enough to do my day-to-day activities soon.


Key quote
"Thank you, FFD for giving me freedom from diabetes and good health"


Key takeaways
Medicine stopped
Weight loss of 9 kg
Calf pain resolved