Ananth Padmanabha Rao: An exceptional story of weight loss and medicine freedom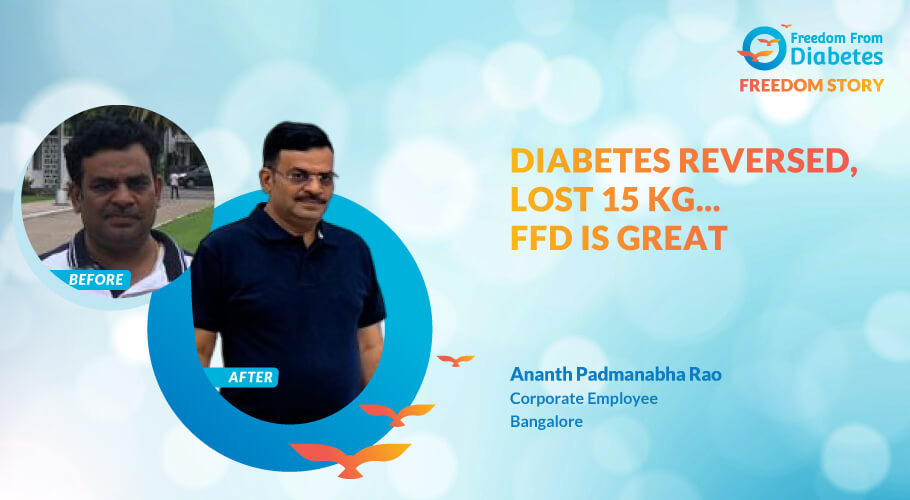 Diabetes reversed, lost 15 kg...FFD is great
Name- Mr. Ananth Padmanabha Rao
Age- 56 Years Young
Profession- Corporate Employee
Place - Bangalore, Karnataka


My motive behind joining FFD


I wanted to stop my tablets and reduce my weight.
Introduction


I am Ananth Padmanabha Rao, 52 years young from Bangalore. I am a corporate employee working at Bosch. There is diabetes in my family history as my mother is diabetic.


Diabetes and Obesity


Every year I do a health check-up. It was in the year 2014 when the tests revealed my diabetic status. I remember because I was just back after 3 years in Germany.
I used to do home gym exercises and a treadmill but with my work schedule, it became difficult for me to give time. This led to me putting on weight and I reached an alarming 85 kg.
Mr. Ananth Padmanabha Rao
How did I come to know about FFD?


I always wanted to get rid of medicines and lose weight but I never tried anything.
I had come across FFD on Facebook. One of my colleagues and my manager both had joined FFD, so took input from them too. The biggest motivating point was when I came to know my manager's medicines got stopped.
Once I saw a path to achieve I decided to go for it.
FFD journey


The 4 FFD protocols are truly the pillars of a good and healthy life. I was under the impression that diet and exercise are only important but after FFD I understood the importance of inner transformation too.
My food habits were not very bad but FFD has taught me a systematic way of eating and I will be grateful for it all my life. My diabetes medicines too stopped in a few months.
The weight loss journey has been worth sharing. As mentioned earlier, I was at 85 kg when I joined FFD. In the first two and half months, I came down to 70.65 kg which was just awesome. I feel I can do everything now.
Impression

FFD has been the best thing that has happened to me. I am free to ask all my queries and get them answered quickly which is really a big plus point.
I am genuinely happy because I achieved both my goals of reversing diabetes and weight loss.
Key takeaways
Medicines stoppage
Weight loss of 15 kg
Greater positivity