Best story of diabetes reversal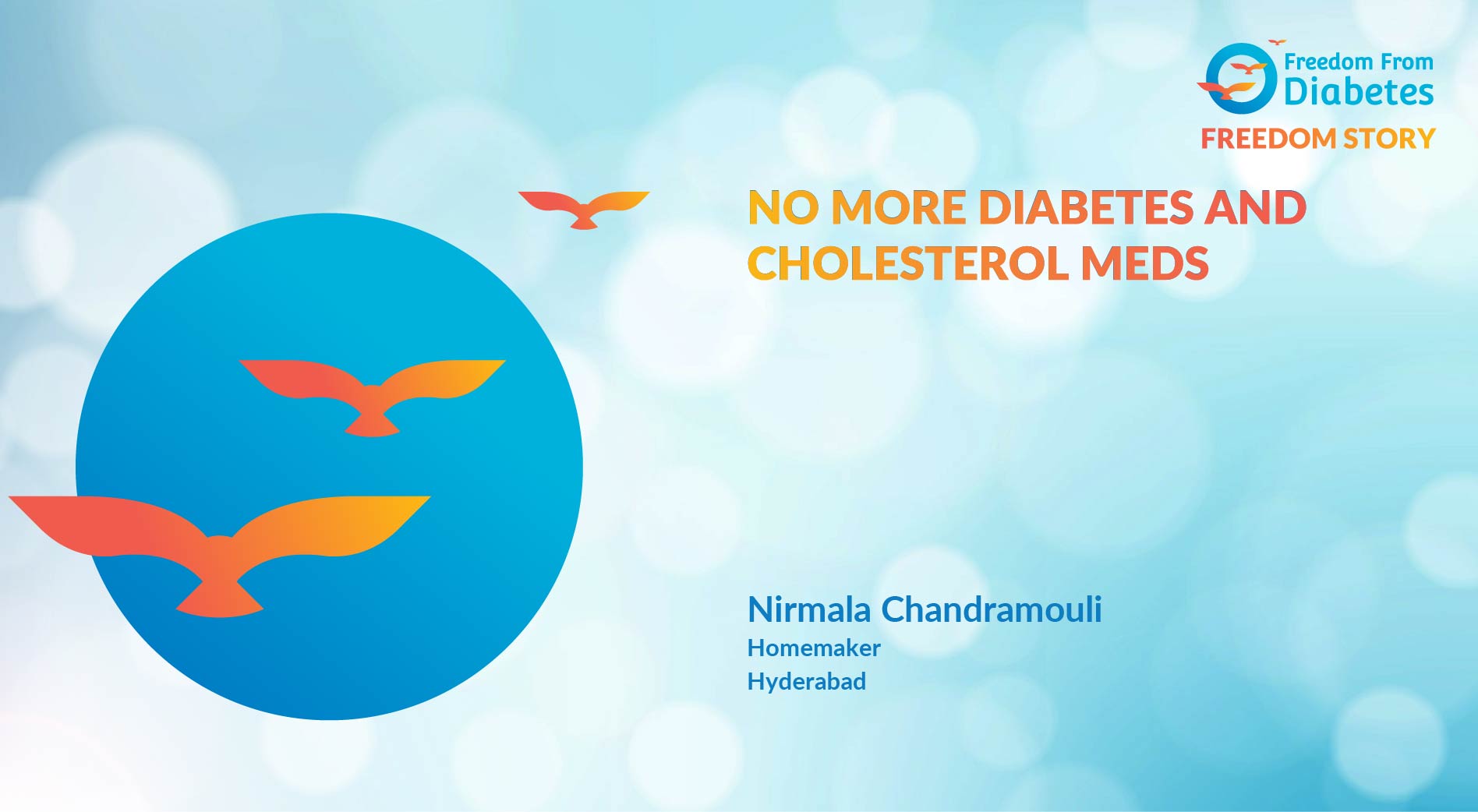 No more diabetes and cholesterol meds
Name- Mrs. Nirmala Chandramouli
Age- 56 years
Profession- Homemaker

Place - Hyderabad, India
My idea behind joining FFD

Despite doing regular walking and gym, I observed that I suffered from diabetes and was overweight. These things were not working. Was unaware of diabetes reversal. When I saw a great transformation in my cousin and his wife with FFD, I was convinced.
Introduction

Hello
I am Nirmala Chandramouli, a 56 years old homemaker from Hyderabad. I am post graduate but willingly accepted the role of a homemaker. Medical history-wise, my parents are both diabetic, my mother is insulin-dependent and my father became diabetic pretty late in life. Stress-wise, there has been some amount of personal stress.
How did I get to know I am a diabetic?

My diabetes was detected during my annual medical check-up in 2016. It was very mild and so I was put on Metformin and advised to lose weight.
Difficulties I faced

I did not face any problems due to diabetes. I had no symptoms whatsoever as my sugar levels were only marginally high. The turning point came when doctors in Kolkata wrongly diagnosed my throat pain as thyroiditis and put me on steroids.
This medication pushed my sugar levels to 400 and then I had to be put on a high dosage of strong medicine to bring down my sugar levels. Subsequent tests didn't reveal any thyroiditis but left me a full-fledged diabetic.
How I came to know about FFD

Honestly, I didn't know much about the diabetic reversal program, maybe heard it in the past but never paid any attention. The pivotal moment came in November 2021, when my cousin and his wife, who had been following Dr. Pramod Tripathi on Facebook joined the FFD diabetes reversal program HTP batch 76. In a matter of a couple of months, they had lost weight and were off the medicine. This got me thinking.
Mrs. Nirmala Chandramouli
Freedom from Diabetes journey

I attended Dr. Tripathi's induction program Discover Reversal Session in December but didn't join it immediately as I didn't want to join just because someone else had joined. For two months, I followed the FFD protocol of green smoothies, going vegan, and on a proper diet. I lost a couple of kilograms. Only when I was sure that I would give my 100 % and total commitment to it that I joined FFD diabetes reversal program Holistic Transformation Program (HTP) in February 2022.
My journey with Freedom from Diabetes has been satisfying so far. I was on three tablets for diabetes and one tablet for cholesterol. My diabetes tablets stopped gradually one by one and I was off all diabetes tablets within 10 days of my joining FFD. I have had a weight loss of 11 kg so far and in 3 months my cholesterol tablets were also stopped.
My thoughts

These developments were unthinkable before. I couldn't have imagined myself without any medication. My diabetologist never indicated that the medicines could be reduced or stopped. I was told as a confirmed diabetic, I will have to be on medication all through my life.
I joined FFD intending to reverse my diabetes and lose weight. I am happy to share I achieved both. I feel really good and positive. I have addressed many inquiries about Dr. Pramod Tripathi's program by forwarding his introduction session details to all. Hope my journey further toward my ultimate goal of clearing the GTT will be smooth.
Takeaways
Freedom from Diabetes & cholesterol medicine
11 kg weight loss
Increased positivity