Charoolatha Vaidhyanathan: Motivational weight loss story from Tamil Nadu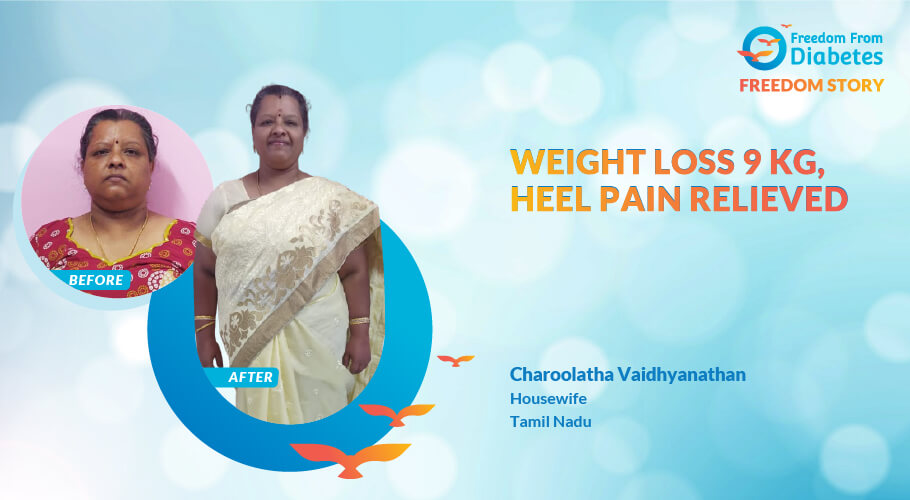 Weight loss 9 kg, heel pain relieved
Name- Mrs.

Charoolatha

Vaidhyanathan

Age- 52 Years Young
Profession- Housewife
Place - Tamil Nadu


Hello Friends,

I'm Charoolatha Vaidhyanathan a 52 years young housewife from Tamil Nadu.
My weight story

Weight gain was a big problem that I was facing through the years. The highest that I reached was 106 kg. Definitely, this high weight had made my life difficult. I brought a treadmill and a stationary cycle and tried dieting too but nothing really helped. By the time I came to FFD, I was at 101 kg.
How did FFD happen?

My husband had already joined FFD as a diabetic.
What made me choose FFD?

I was aware that FFD helps in reducing weight too, so I thought why not try it. The introductory webinar by Dr. Pramod Tripathi added to my confidence and I enrolled in Freedom from Diabetes type 2 diabetes reversal program - HTP for weight loss.

Mrs. Charoolatha Vaidhyanathan
Weight loss story

Joining FFD was a good decision. They gave me a methodical plan which nobody else did. My weight loss of 9 kg has been great. The initial weight loss was very speedy but it took around 6 months to come down to 92. It has come to a plateau now I will work on it with FFD's help.
Losing weight has helped me a lot as I have become more active and flexible. There is a definite improvement in my energy levels, strength, and stamina. I can comfortably ride my cycle for 1.5 hours now which was not possible earlier.
My pain story

Somewhere during the program, I suffered from heel pain. I initially thought it was temporary and would go off within 1 or 2 days but this did not happen. It kept nagging me so I contacted my exercise expert.
She listened patiently and forwarded me a few exercise videos. I must admit I was not regular with those exercises but whenever I did them I got pain relief.
I would rate my pain on a score of 5 and after doing the exercises it gets lesser and comes down to 4. The recommended exercises definitely help.

Key quote
"Thank you, FFD for showing me a methodical path to health"

Key takeaways
Weight loss 9 kg
Heel pain improved
Increase in strength & stamina