Coconut Basundi- Homemade Indian Sweets for Diabetic Patients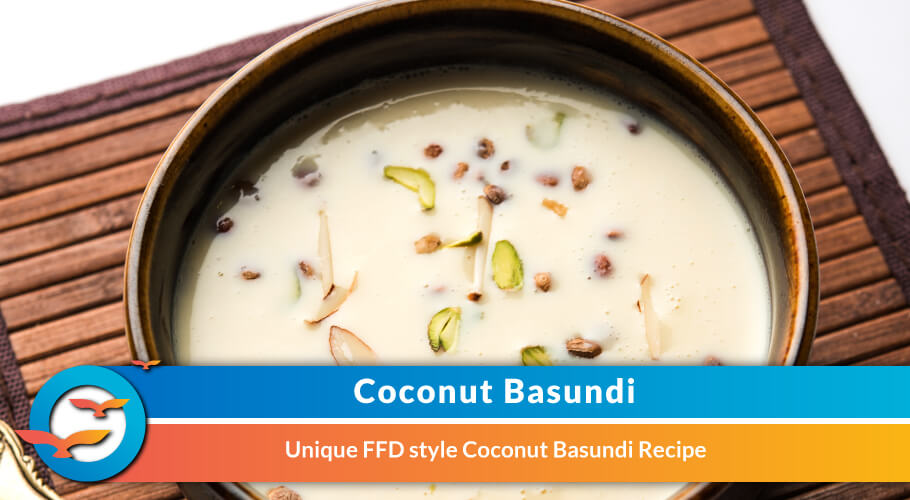 Sweets are an inherent part of festivals all around the world. No festival can be complete without sweets. The variety of sweets differs depending on the country, region, festival, occasion, etc. Diabetics need to keep a check on their sugar levels and festival times are difficult times for them. Do they not have the right to enjoy, celebrate festivals?
Today, we are going to talk about a special sweets recipe known as 'Coconut Basundi' - a specially modified recipe for diabetics by FFD. Before going to that, let us see what is original Basundi is made up of.
What is basundi?

Basundi is a sweets recipe of Indian origin sweet mostly prepared in Gujarat, Maharashtra, Andhra Pradesh, Tamil Nadu, Telangana, and Karnataka. It is prepared by boiling milk until it is reduced by half. North Indians call it Rabri. It is prepared during the festivals like Bhai dooj or Kali Chaudas.
Nowadays, you get different varieties of basundi like angoor basundi, sitaphal (custard apple) basundi and many more. Now, the question is, is basundi healthy?
Can diabetics have basundi?

The answer is a big NO. Basundi is not healthy. The main reason being its ingredients like milk, sugar are both unhealthy for diabetics.FFD has brought in several sweets recipes for diabetics and one of them is Coconut Basundi. Its main ingredient is coconut milk.
Can diabetics have coconut milk?

Coconut is a tasty alternative to animal milk with a number of health benefits. It contains important nutrients like copper and manganese and helps in stimulating weight loss and lowering cholesterol.
Recipe features

There is nothing like Including all the healthy ingredients in a recipe. This recipe is enriched with coconut milk, brown rice, nuts, saffron - beneficial for diabetics and health-conscious. It is 100% vegan too!


| | |
| --- | --- |
| Course | Main |
| Cuisine | Indian |
| Preparation time | 20-25 mins |
| Serving | 4 |

Let's see how to make basundi? - in FFD style
Ingredients
200 ml Coconut Milk + 50 ml Water, Mixed


1 tsp Brown Rice Flour


1 Tbsp Dates Paste


10 Almonds Soaked Peeled and Ground to Fine Paste


2 Tbsp Nariyal Malai Pieces/Very Tender Coconut


5 Green Cardamoms Powdered


5 Cashews Chopped


5 Almonds Peeled and Chopped


7 To 8 Strands of Saffron


Pinch of Nutmeg Powder


Few Drops Stevia to Taste


A Few Strands of Saffron and Chopped Nuts for Garnish
Method
Mix the Coconut milk and water with dates paste and rice flour, and put in a thick-bottomed saucepan or kadhai.


Add the saffron strands and cook on slow flame, scraping from the sides, till it thickens.


Keep on stirring so it doesn't burn.


Add Almond paste and hot water if required, to make it of Basundi consistency or slightly thinner than Rabadi texture, turn off the heat and let it cool.


Once cooled, add the tender coconut pieces, chopped nuts, nutmeg and cardamom powder and stir well.


Check taste and add stevia drops as needed.


Divide equally into 4 small bowls and garish with saffron strands and chopped nuts.


Chill in-fridge and serve with lunch.

Note:

If you are off medicines and sugars are stable, then you can eat 1 serving with lunch, otherwise try only ½ a serving. Please check BSL after eating this.
Visit FFD's Diabetes-Friendly recipe blog section to know about other healthy sweets recipes. Our IRP program is a one-year program that has successfully freed 11,500+ people of their diabetes medicine and insulin. This humungous success is due to our specialized, customized treatment in the area of Diabetes reversal and reversal of lifestyle disorders.
Join Discover Reversal Session and get set your life on the right route!
Looking for other healthy Diabetes-friendly Recipes? Try these: